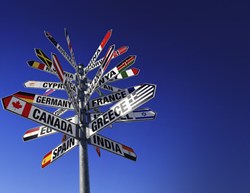 Let Us Show You How!
(PRWEB) July 22, 2013
International Trade Training Center
ITTC is a training institution specializing in international trade. The courses are primarily for managers from small and medium size enterprises, international consultants and members of associations and trade promotion organizations (TPO). The courses cover all areas of international business (supply, market development strategies, logistical, legal, fiscal, export department, Web 2.0).
ITTC helps businesses become more efficient by offering online training. The different topics are concentrated in order to optimize the success of your company internationally.
Objectives:
This suite of webinars is intended to familiarize contractors, manufacturers, exporters, importers, traders and service providers a comprehensive view of international trade. Short-term training will help to clarify and develop the skills to act locally and abroad in foreign countries.
The platform includes:

Online Training
PowerPoint Presentation
Video Testimonials
Additional documents related to the topic
Interactive Webinars: Opportunity for discussion with the trainer
Platform for Internet training
What about "Living and Working Overseas"?
This series of webinar is a guide on international careers especially made for all types of international job seekers (university students, teachers, entrepreneurs, managers, graduates…). This guide gives expert advices to gain experience through study and internships; to succeed overseas; to help in job searching; and everything that you need to know.
These webinars are arrange by themes, for example one is focused on giving advices on living abroad, one on the language and the culture, another one on studies, etc…
Find below the list of webinars:
I. Webinar One:
a) The effective overseas employee
b) Living overseas
II. Webinar Two:
a) What expats say about living overseas?
b) Learning a foreign language
III. Webinar Three:
a) Starting your international career
b) Short-term programs overseas
IV. Webinar Four:
a) Cross-cultural travel
b) Study abroad
V. Webinar Five:
a) International study in Canada
b) Internships
VI. Webinar Six:
a) Your career path & the ideal international profile
b) The hiring process
VII. Webinar Seven:
a) The job search & targeting your research
b) Phone research techniques
VIII. Webinar Eight:
a) Selling your international skills
b) International resumes
IX. Webinar Nine:
a) Covering letters
b) Interviewing for an international job
General Information:
Location and date:
Training: Fridays from 18:00 to 21:00 EST
Location: Online Internet
To register: http://www.international-trade-training.net/cfciins19072013
Contact:
For more information on training, please contact: Karl Miville De Chene in a CITP trainer certified by FITT (http://www.fitt.ca)
Email: info(at)international-trade-training(dot)net
Phone: 1-877-387-9009