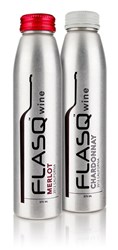 "Partnering with JT Wines in the innovative FLASQ project is timely," said Oliver Colvin, COO, Winery Exchange. "Our customers look to us for innovative products and packaging solutions, and FLASQ Wines delivers on all counts."
NOVATO, Calif. and ST. HELENA, Calif (PRWEB) July 16, 2013
Winery Exchange, the only full-service, national and corporate brand beverage alcohol company sourcing beer, wine and spirits worldwide, and JT Wines– parent company of FLASQ Wines, the first and only domestic wine packaged in aluminum bottles – announced today an exclusive, multi-year agreement for select regional and national account sales and distribution of FLASQ. Targeted for millennials and wine enthusiasts with active lifestyles, FLASQ boasts quality California wines packaged in quick-chilling, shatterproof and 100 percent recyclable half-bottles (375ml).
"We believe there's a strong market for premium wine in a convenient, eco-friendly container. The adventurous millennial demographic specifically is drawn to the uniqueness and mobility of the aluminum container, but purchases for the wine quality, accessibility and recyclability," said Oliver Colvin, COO, Winery Exchange. "Partnering with JT Wines in the innovative FLASQ project is timely. Our customers look to us for innovative products and packaging solutions, and FLASQ Wines delivers on all counts."
"This agreement is a solid move to facilitate the next phase of the FLASQ Wines brand," said Dave Bon, JT Wines CEO. "We enjoyed regional successes during the early days of the launch; however, now is the time to expand our reach, and Winery Exchange is the ideal partner for us. Their broad industry expertise and extensive sales, marketing and production experience position FLASQ for accelerated national and international sales growth. It's a great fit, and we are excited about this venture."
FLASQ features Merlot and Chardonnay from California's prominent wine regions. The wines are currently available at Cost Plus World Market stores nationwide, as well as select Total Wine & More, Vino Volo airport shops and Whole Foods Markets. Pricing can vary from retailer to retailer, ranging from $4.99-$6.99 per bottle.
About Winery Exchange
Winery Exchange is the only full-service, national and corporate brand, beverage alcohol company that sources beer, wine and spirits from the finest regions worldwide. The company was founded with the intent of blending extensive industry expertise with cutting-edge business practices. The result is a dynamic, fast-growing company poised to take advantage of new trends in the beverage alcohol industry.
About JT Wines/FLASQ Wines
Launched by JT Wines of St. Helena, Calif. in 2011, the award-winning FLASQ Wines is the first and only line of domestic wines packaged in 100 percent recyclable and quick‐chilling, 375ml aluminum bottles. With Chardonnay and Merlot hailing from California's renowned wine regions, FLASQ offers a convenient, socially responsible and fun approach to the enjoyment of wine. It's Great Wine, Any Time. For information, please visit FLASQwines.com. FLASQ Wines can also be found on Facebook and Twitter (@FLASQwines).