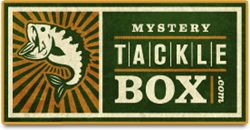 Yankton, SD (PRWEB) July 17, 2013
ProPatterns, Inc. has partnered with Mystery Tackle Box, Inc. this month to bring interested anglers and members exciting new deals and a chance to win a free year-long Elite membership to ProPatterns.com. During this July promotion, all new Free and Elite ProPatterns memberships will be eligible to win an Elite membership or a membership extension worth over 200 dollars. ProPatterns, Inc. is also offering a 25% discount on all ProPatterns merchandise, including the four-volume, nine-disc set of the first season of Exposed, the first reality video series involving official practice days with tours such as BASS, FLW, and PAA. The Exposed series follows the best professional anglers on some of the most challenging lakes in North America as they offers secrets and tips any angler can use.
By partnering with Mystery Tackle Box, ProPatterns, Inc. offers fishing enthusiasts the opportunity to expand upon the most cutting-edge resources and expertise available. Mystery Tackle Box is a monthly subscription service that introduces both beginner and expert anglers to new fishing lures and tackle every month. In addition to the new lures and tackle, subscribers also receive a "bait card" that explains more about the lures, tackle, and offers. While Mystery Tackle Box currently focuses on freshwater bass fishing, next year the company plans to expand to feature tackle that targets other freshwater and saltwater species. More information about Mystery Tackle Box can be found at MysteryTackleBox.com and at Facebook.com/mysterytacklebox and Facebook.com/BassFishingFavorites.
With the release DVDs for the second season of Exposed on the horizon and the recent inclusion of the Mapper app to the ProPatterns website, Mystery Tackle Box subscribers find themselves in a unique position to subscribe to ProPatterns during the month of July and discover some of the best technologies and educational tools available to the angler today.
About ProPatterns, Inc. and Exposed:
ProPatterns, Inc. is a leader of angling education offering a variety of fishing tips and membership services online. Information is gathered from various sources and shared with members in a variety of ways. The Exposed video series, for example, gains all of its integrity from an alignment with the biggest names in the bass fishing industry including professionals who fish with BASS, FLW, and PAA. Cooperation from the anglers and their willingness to share is the catalyst for the growth of this series.
The company is based in Yankton, South Dakota, home of CEO and President Chad Ekroth. Ekroth's background includes a computer science degree and business experience involving several successful startups. When not tending to business, Ekroth spends his time tournament fishing and engaging in other industry relations including a long time commitment to B.A.S.S. Nation as a 25 year member and competitor.
In addition to Exposed the company provides online fishing journals, payday opportunities, sponsorship opportunities, and a variety of other services including the new enhanced Fantasy Fishing competition which provides all members a chance to win prizes.
Visit http://www.ProPatterns.com today to receive all of the latest information about the Exposed videos series, to participate in Fantasy Fishing, and to learn more about all of the member services available.