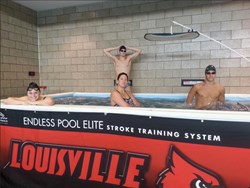 The Endless Pool teaches you things no coach ever could.
Louisville, KY (PRWEB) July 18, 2013
Riding the momentum of a record-setting season, the Louisville Cardinal swim team, led by head coach Arthur Albiero, plans to take another giant step forward in 2013-2014.
The Cardinals have added an Endless Pool® Elite to their program, with the goal of accelerating their rise to national prominence.
Coming off a season in which the men's team finished 2nd in the BIG EAST and 11th at the NCAA National Championships, the group will look to crack the top 10 in 2013-2014.
The women's team finished 22nd in the country, equaling their best NCAA result in team history, and captured the BIG EAST conference crown for the 3rd straight year.
"We are building something special," said head coach Arthur Albiero, the 2011-12 National Coach of the Year.
Albiero, who led Portugal's Olympic swim team in the 2012 London games, has already seen the benefits of the squad's Endless Pool in action.
"The Endless Pool teaches you things no coach ever could," said Albiero.
With returning 200-yard freestyle national champion Joao De Lucca in the fold, and a host of talented veterans mixed in with exciting recruits, the sky is the limit for the Cardinals.
Team members have taken to the Endless Pool quickly, spending time in the pool and sharing photos via Twitter.
Louisville joins the growing list of premier college swim programs to train in the Endless Pool Elite. With Auburn University, Harvard, Dartmouth and Indiana already in the fold, coaches and swimmers around the country continue to realize the pool's benefits.
The Elite model provides a challenging swimming workout with the opportunity for detailed analysis and instant feedback through the use of overhead and underwater mirrors, as well as underwater cameras and video monitors.
With all the technological advancements in swimming recently—such as high tech fabrics for bathing suits—the Cardinals and other NCAA programs are staying ahead of the curve by perfecting swimmers strokes in the Endless Pool Elite.
ABOUT ENDLESS POOLS:
Endless Pools, established in 1988, has served over 20,000 customers in over 80 countries, and offers compact, customizable outdoor or indoor pools. With a series of six innovative products and an adjustable, revolutionary swim current, the product can be tailored for the beginning swimmer or the Collegiate National Champion. Low-maintenance and environmentally friendly, Endless Pools has a product to meet virtually any need.
For more information, visit http://www.endlesspools.com or contact Rob Shaeffer at 610-497-8676.