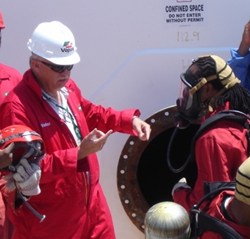 ...it provides a lot of extra value when one of our courses qualifies for college credits...
Richardson, TX (PRWEB) July 19, 2013
OSHA Pros, LP, a partner of 360training.com and a major provider of online occupational safety training through its branded websites, has announced that Columbia Southern University (CSU) now grants 3 college credits to students who pass its Hazwoper 40 Hour Course, an online hazardous materials management class available from the company's website, http://www.osha-pros.com.
The 40 Hour Hazwoper course applies to Columbia Southern's requirements for an Associate of Applied Science in Occupational Safety & Health degree. One of the requirements of the CSU degree program is BOS 3125, Hazardous Materials Management, a 3-credit class offered by CSU. CSU now recognizes that graduation from the 40-Hour Hazwoper course, offered through osha-pros.com, fulfills the requirement for that class and qualifies for the 3 credits needed in hazardous materials management.
William Mizel, CSP, a nationally recognized workplace safety consultant and one of the principles of OSHA Pros, said that "it provides a lot of extra value when one of our courses qualifies for college credits. It helps not simply if the student wants to attend the crediting school, but often those credits can be transferred to other degree programs across the United States."
About OSHA Pros, LP
For two decades, OSHA-Pros USA has provided high-quality OSHA Training and Compliance service to companies and individuals all over the world.
For additional information about this release, contact Jenny Foley at 1-866-442-6742. For information on obtaining the Hazwoper 40-Hour Course mentioned in this release, visit http://www.osha-pros.com/online-40-hour-hazwoper-training-course.