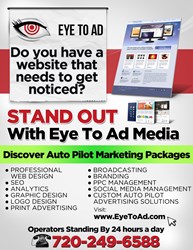 Have a script for everything!
New York, NY (PRWEB) July 17, 2013
Saying the right words in advertising sometimes can be the difference between gaining a new client or not. A national marketing company, Eye To Ad Media announces copy-writing services with a focus on script creation. This talented seo firm specializes in professional web design, graphic design, search engine optimization, video production and packaged advertising solutions.
When it comes to marketing, having copy-writing that portrays a business in a favorable light is essential. However, creating advertising pieces that are moving, memorable and conversion friendly; isn't always so easy.
There are many key elements to a strong brand. Having turnkey scripts for radio commercials, phone answering, sales staff and general customer service can be an invaluable when they are aligned with the company's brand, mission and corporate identity.
According to Eye To Ad, clients will be able to work directly with marketing experts to help guide the creative process. Customers will have the opportunity to have a professional sales funnel written exclusively for their product of service. The company will evaluate the product, service and brand in an effort to create the ultimate sales process script. The scripts include fundamental, but essential elements of the sales process such as qualification, justification of value, objection isolation and of course closing the deal.
Having powerful scripts created is only part of the advertising equation. What good are great words if no one ever gets the opportunity to actually read them? Fortunately, this media company has a wide variety of optimization services that can help distribute a company's message globally. The seo services offered can help clients optimize their website, establish tracking analytics and help with strategic keyword ranking on major search engines.
It is important to understand however, phenomenal copy-writing is best received when it is used in conjunction with clean graphic designs. Strategically displaying a company logo or relevant graphics can potentially help with conversion rates and make the marketing piece more noticeable. Having an ad noticed is half of the battle. The right words integrated with the right design can potentially have tremendous payback.
Internet advertising can be very difficult and time consuming. Typically there are several platforms that need to be understood in order to have successful online campaign. This creative firm can help simplify the process for business owners, making diversifying a company's promotional efforts more streamlined.
Contact Information:
Zach Wennstedt
720-249-6588
info(at)EyeToAd(dot)com
http://www.EyeToAd.com