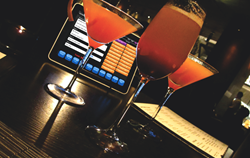 Revolutionizing the way restaurants do business with its sophisticated software.
Las Vegas, Nevada (PRWEB) July 17, 2013
Next Gen Dine cloud point of sale by Prelag Partners LLC is the latest innovation to hit the POS market, revolutionizing the way restaurants do business with its sophisticated software.
In its short time on the POS market, Next Gen Dine is already installed in several parts of the United States and in parts of Australia.
With this new point of sale system, servers have the capability to take orders directly and conveniently at the customer's table. Payments can also be taken directly at the table which will give the customers peace of mind knowing that their credit card never left their sight. All orders made are immediately sent to the kitchen to be prepared by the appropriate station. The mobility offered by Next Gen Dine allows for orders to be placed inside, outside, or anywhere within the restaurant.
The hostess module allows for hostesses to take reservations and keep track of reservations. A text to page feature is also available so that when a table is available, the hostess can quickly send a text to let them know they are ready to be seated.
Among some of the useful features available on Next Gen Dine is a loyalty program, sales reports, payroll, bar tabs, social media integration, coupons, online ordering, gift cards, and other fine-grained marketing tools.
The newest addition is the Kitchen Display Unit, which receives all orders immediately after being processed by the server. The KDU allows the prep cooks to keep track of all orders and helps reduce the order turnaround time.
Next Gen Dine mobile POS is the future of restaurant dining. For more information, please contact Paul Roberts by phone at 1-877-342-2218 or email at paul(at)nextgendine(dot)com.