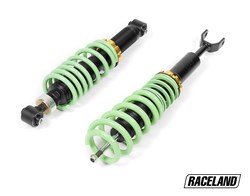 (PRWEB) July 16, 2013
Raceland announced today their new adjustable Audi A4 B5 Quattro Ultimo coilovers which offer owners the ability to adjust ride height through use of spring perches to ensure that the ride quality is not compromised. What that means is that the dampers are going to last and the ride quality will be exceptional.
The difference between their Ultimo coilovers and the entry level kit that they already offer, is that the spring and damping rates have been increased by 15%, providing owners the extra stiffness they need for increased handling as well as the added stiffness needed to help those that are running a more aggressive wheel fitment, keep a clean, static stance.
The adjustable perches allow for one to four inches of drop over stock height. To sweeten the deal even further, Raceland also offers a 2 year warranty to ensure that the B5 Quattro Ultimo coilovers are free from defect.
Raceland's new A4 B5 Quattro Ultimo coilovers are only $399.00 and are available for all 1994-2001 B5 models. For more information on these Ultimo coilovers and other Raceland products, visit http://www.raceland.com.
About the company:
Raceland USA was founded in 2009 with the objective to provide car enthusiasts performance parts at an affordable price by selling direct. What that means is you are buying products at or below distributor pricing. For more information, visit http://www.raceland.com.