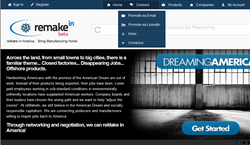 "I'm not giving up … we want to, somehow, reverse the trend. I'd like to believe that if we could start a list of importers who would be willing to negotiate with U.S. manufactures, through price quotes, we could get this thing rolling," stated Czipri.
(PRWEB) July 17, 2013
Accon Marine, a company known in the marine industry for fresh ideas and innovation, set a new trend by becoming a pilot member company of the B2B networking Web application, reMakeIn. reMakIn borrows from the social networking concepts of Facebook and LinkedIn, catering to those United States manufacturers and producers with a dedication to reshoring and bringing jobs back to the United States through collaboration on "Made in America" products.
John Czipri, who started out in the metalworking business more than 30 years ago, is hoping through reMakein that he can find a U.S. steelwork company willing to build Accon's products in America at a price that competes with foreign factories. Users of reMakein can now see Accon and its products listed in the Companies index on the site.
When the U.S. economy began to falter, Czipri, Accon Marine founder, joined what is becoming a growing conversation on returning jobs to the U.S. – dubbed reshoring. Czipri began looking for a U.S. manufacturer that could cast and polish the specialty stainless steel marine parts Accon is known for, at a price-point below the companies from whom he is importing.
"We are importing all these stainless steel parts from China. I would like to return our business to America, to make it better for this Country when it comes to imports. I've been looking for investment casting companies that could build our parts. So far, I've been unsuccessful because of price structure," says Czipri.
Working with Jim Stein, an Internet entrepreneur, Czipri and Stein created reMakein – a nonprofit networking hub for reshoring.
"I'm not giving up … we want to, somehow, reverse the trend. I'd like to believe that if we could start a list of importers who would be willing to negotiate with U.S. manufactures, through price quotes, we could get this thing rolling," stated Czipri.
reMakein hopes to make it easier for producers and manufacturers to partner with each other by providing a match-making site. reMakein uses many LinkedIn features to enable companies to find and start a conversation around the production of parts and products here in the U.S, using their professional network.
The vision is American manufacturers and producers working together to keep jobs in the United States by building "made in America" products. It is free to join and an easy sign-up process. Once a member, users establish a company profile and list of products they are looking to reshore. There is a searchable list of companies on the site that is sorted by category such as apparel, agriculture, consumer electronics, etc. Through the Connect feature, users can reach out to other companies and contacts, including their LinkedIn network, to establish partnerships in the production of domestic products.
"It's a great Country and I hate to see it losing their grip on manufacturing. With so much having gone oversees already, there has to be some kind of a stop," says Czipri. "Helping the country to reshore… to bring products back, will help everyone."
For more information please visit reMakein.com or contact John Czipri at john(at)remakein(dot)com
About reMakeIn:
Promoting the belief that "by establishing connections and negotiating terms, together we can reMakeIn America", reMakeIn builds upon the familiar LinkedIn platform and concept. The website is seeking importers and American manufacturers to join the beta site, http://www.remakein.com. The site is free to join. Importers and manufactures can create a profile, list products and connect with other members and their professional LinkedIn network. Members can then partner to create and sell products made in America. Instead of exporting factories and the jobs associated with producing products, manufacturers and buyers can work with like-minded companies to produce quality products in the United States, maintain profitability and contribute to a stronger U.S. economy.
reMakeIn was started in Boone, North Carolina by two guys just trying to strengthen our great nation.
Don't produce or use products but still want to help? Anyone can help the effort by donating to the not-for-profit website and by buying American.
About Accon Marine:
Located in Clearwater, FL, entered the marine industry in 1988 with the introduction of their 102 series lift rings and the POP-UP® CLEAT. Today, Accon is run by John Czipri's son, Bernd Czipri, while John keeps his hand in the business by designing and developing new and innovative products. The father-son team used its expertise in tool and diemaking to develop a variety of flush mounted, superior quality marine hardware. Fresh ideas and innovation has become Accon's trademark in the industry.