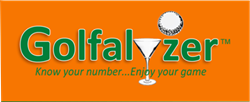 Every person is different, Social athletes should know their tipping point.
Myrtle Beach, South Carolina (PRWEB) July 18, 2013
Since the launch of their rather unique golf gift, the makers of Golfalyzer have been showing up in the right places. There's possibly no better place to showcase their product that at the 2013 Golf.com World Amateur Handicap Championship's 19th hole.
The tournament will attract three to four thousand golfers and their families, most of whom will converge on the World's Largest 19th Hole at the Myrtle Beach Convention Center. Golfalyzer founders Brent Pauely and Chuck Stump will be on hand talking to the golfers about learning and knowing their tipping point both on the course and on the way home.
Golfalyzer is a personal breathalyzer that is being promoted to help social athletes know the blood alcohol content (BAC) necessary to play in that "zone" of better golf. Since an estimated 85% of golfers admit to drinking during, before,or after their rounds, Golflayzer can also help them know if their sobriety has been compromised for their drive home.
"Everyone has a different tipping point," says Co-founder Chuck Stump. "Golfalyzer helps them know their BAC and when their game or their (and others) safety becomes compromised."
Golfayzer will donate $5.00 from the sale of each unit sold at this event to The Folds of Honor Foundation, which provides financial assistance to the families of disabled and fallen soldiers.
Find more details about Golflayzer and the Golf.com World Amateur Handicap Championship HERE.