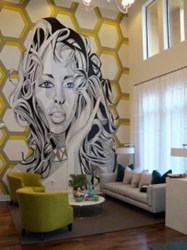 We designed these spaces to be vibrant and comfortable. Perfect for the Gen Yers who call Steel House their home.
Winter Park, FL (PRWEB) July 17, 2013
Award-winning interior design firm, Beasley & Henley Interior Design kicks of the 2013 awards season with 2 wins at the 34th annual Aurora Awards. The innovative firm won both a 'Best Clubhouse or Common Area' Aurora Award and a Grand Aurora for their creative design and merchandising at Steel House in Orlando, Fl. The Aurora Awards are an event held every year, in association with the South East Builders Conference, to recognize excellence in design for south east region designers, architects, builders, and others in the design and building industries.
Led by Principal Designer Troy Beasley, Beasley & Henley's design of this progressive downtown project, includes cutting edge interiors in the clubroom, fitness center and skyline 'Lounge'. The style of the spaces is markedly upscale-urban and sophisticated with modern furnishings and bold colors. The amenity spaces are small, so a lot of 'look' was adeptly fit into each space to appeal to the young, hip demographic.
One focal point for this progressive project is large stylized mural of a woman's face in the lobby. Its vibrant, modern look sets the tone for the community. Wood flooring, wood wall and ceiling details ground this space, which is flooded with light by the large front windows.
Another main area for Beasley & Henley's designs is the 4th floor lounge. Looking out onto the city, it features modern and industrial style furnishings, lighting and colors that give it a high end night club feel.
The design team's pool furnishings are white chaises with orange side tables, and exterior dining chairs in an organic pattern.
The Beasley & Henley design team provided the client, Pollack Shores Real Estate Group, all the interior design including the floor plan analysis, interior detailing, interior specification, ID drawings, outdoor living spaces and luxury furnishings.
The architect for the project, Poole and Poole Architecture, also won an Aurora award for their design of Steel House.
Beasley & Henley is pleased to continue its alliance with growth-focused Pollack Shores Real Estate Group with includes the previous award winning project of 5 East in Atlanta.
Beasley & Henley Interior Design is a boutique interior design firm creating common areas, model homes and private residences across the US. Their services include interior detailing, specifications, drawings, interior design and furnishings. For more information on Beasley & Henley Interior Design or any of their award winning interiors, including Aurora Awards, please call 239-774-1005 or 407-629-7756, or reach us at Stephanie(at)BeasleyandHenley(dot)com http://www.BeasleyandHenley.com