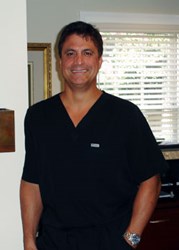 Durham, NC (PRWEB) July 16, 2013
Patients can now turn to Dr. Jason Cataldo of Periodontics and Dental Implants of North Carolina for an alternative to periodontal surgery that can treat periodontal disease and prepare a healthy environment for dental implants. Using the new, FDA-cleared laser gum surgery, Dr. Cataldo can regenerate bone growth, saving some teeth and possibly reducing the amount of dental implants needed.
The Laser Assisted New Attachment Procedure (LANAP) differs from traditional periodontal surgery in that it uses a laser to only remove gum disease. Traditional surgery would require cuts and stitches, and inevitably the loss of healthy gum tissue. LANAP leaves healthy tissue untouched, and the laser used in the procedure even stimulates the bone, which leads to regeneration and can help prevent the loss of teeth by assisting in reattachment.
In the event that some teeth cannot be saved, Dr. Cataldo offers patients the option of implants. Dental implants have many features that are desirable to patients, such as looking authentic and functioning like a normal tooth does. Implants are low-maintenance and will not click, fall out, or require a change in the patient's lifestyle. However, implants also offer more important benefits; one is that they stimulate the jawbone. The absence of stimulation from teeth can cause a bone to stop growing and maintaining itself, leading to eventual shrinking. Implants prevent this from occurring.
Laser gum surgery can set patients up to have more success if they do end up needing implants. The surgery removes gum disease so that the dental implants can be placed in a sterile and healthy environment.
With LANAP, Dr. Cataldo can offer patients a non-invasive treatment for gum disease that also prepares them to receive implants. Patients who are interested in the procedure and would like to learn more can call the office or visit the website of Periodontics and Dental Implants of North Carolina.
About the Practice:
Periodontics and Dental Implants of North Carolina is a periodontal practice offering personalized dental care for Durham, NC gum disease patients. Dr. Jason Cataldo attended college at the University Of Buffalo School Of Dental Medicine, completed a general practice residency at Michael Reese Hospital in Chicago, IL, and completed his periodontal training at Case Western Reserve University in Cleveland, OH. He is board certified in periodontology and Adjunct faculty at the University of North Carolina at Chapel Hill. Dr. Cataldo is part of one percent of dental professionals providing the most recent FDA cleared laser procedure for gum disease treatment. To learn more about Periodontics and Dental Implants of North Carolina and their dental services visit their website at http://www.carolinaperioimplants.com and call (919) 724-4273.