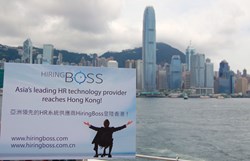 Hong Kong / Singapore (PRWEB) July 17, 2013
HiringBoss, Asia's dominant HR and recruiting software providers, today announce the launch of their new Hong Kong office. This is a clear move to further advance HiringBoss's foothold as Asia's premier purveyor of HR and recruiting software solutions.
Since their launch in late 2010, HiringBoss has established 7 offices across Asia and have garnered high-profile clients from a wide range of industries across the region, including domestic mega-banks, Asia-wide manufacturers and global brand names. Hong Kong marks the 2nd office in China for HiringBoss, joining the company's recently launched, yet already successful, Shanghai outpost.
Kevin Xia, HiringBoss Regional Director of North Asia, today commented, "HiringBoss Hong Kong is the next logical step for us to ramp up our presence across the region. Our recently launched Shanghai operations show a team making headway in a market that is acutely receptive to the HiringBoss philosophy of affordable, localized HR technology that saves our clients time, money and delivers a distinct competitive edge. Our increased Hong Kong operations are down to the overwhelmingly positive response we have had for HiringBoss so far in China. It just makes sense."
Xia added, "I am delighted to be working with such an accomplished and passionate team on-the-ground here in Hong Kong. To say we are enthusiastic about the prospect for HiringBoss Hong Kong would be a huge understatement – in fact, our clients have been pushing us to open here for some time. China- the HiringBoss revolution is well and truly here!"
Xia continued, "In many ways, Hong Kong has proven to be the impossible frontier for many of the more established players from the global talent management arena. Quite simply, they have come to Hong Kong and have either failed to make an impact or have given up on the region completely. We are different. As the only Asian focused HR software provider out there, HiringBoss has the distinct advantage of being 100% localized and is backed by a team that has genuine understanding of how businesses here work. We are not a satellite office for a global corporation. To the contrary, we are committed to providing in-country, knowledgeable staff here to truly service our clients and deliver the best HR solutions available."
Why Hong Kong?
Xia commented, "Hong Kong is one of the world's leading free economies, with a robust legal framework and compliance standards. This is bolstered by advantageous ties with Mainland China. An abundant and highly-skilled workforce mean that outside investment thrives, with service industries such as Public Sector, Finance & Retail being the key economic driving forces. Add to this the fact that Hong Kong has a low employment rate, at just 3.5% in 2013 Q1, and receptiveness to Western business practices and technology, and you have the perfect storm for HiringBoss success".
Xia added, 'We are actively hiring experienced business development managers and client solution consultants, with a solid software & HR background, who can write the HiringBoss success story with us". Further details can be found on the HiringBoss: http://www.hiringboss.com
About HiringBoss
HiringBoss is the only HR and eRecruiting provider designed for global and local businesses in Asia. The HiringBoss pledge is simple: to provide our innovative, easy-to-use HR software, at prices that any business can afford. This is why HiringBoss is delivered through the Cloud, with friendly support in local HiringBoss offices across Asia.
HiringBoss recently secured significant investment from JAFCO, the largest and most prestigious investment firm in Japan. This recent investment has been used for increased R&D, support and passion in delivering the best applicant tracking and HR solutions they can for their customers… and further illustrates their commitment in establishing HiringBoss as Asia's premier HR and recruiting software provider.
HiringBoss are actively sourcing talented people to join their growing and successful team. Visit http://www.hiringboss.com for more info.