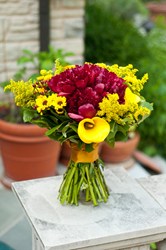 "Flowers bring people together. I'm happy to be coming to Baltimore!" says Gaffney.
(PRWEB) July 17, 2013
The 70 Garden Club members of the Lutherville Garden Club in Baltimore, MD have an exciting event scheduled for the morning of October 8, 2013. World-renowned floral designer Michael Gaffney with be presenting "New York Comes to Baltimore".
Michael Gaffney is a leading Floral Designer in the world of Interior Design, as well as Television and Motion Picture industries. Mr. Gaffney has been seen on many TV shows, such as the Today Show and the Hallmark Channel. His floral design work has been featured in several films and he has designed weddings and flower shows around the world. Martha Stewart's radio show declared Gaffney "the most interesting guest ever on the show." He is owner of the Flower Design Schools of America and has 8 schools across the country. His floral design classes focus on teaching the tips and tricks of the trade to beginners and veterans alike. During the Design Complete semester, students learn over 20 different arrangements, from hand-tied and bridal bouquets, to classic American, European and Contemporary arrangements.
Michael will be putting together several creative floral designs in a variety of containers provided by and then given back to club members with the arrangements in them. His lectures are informative, fun and filled with personal stories. He will be available after the presentation to sign and sell his book "Design Star".
The $40 event will be held at the Historic Woman's Club of Roland Park, with breakfast at 9 a.m., followed by the Michael Gaffney presentation and book signing. For information, contact Cheryl Marocco at 410-321-6384 or email luthervillegc(at)gmail(dot)com. The proceeds from this event will be donated to the Hampton Historical Site Green House Stabilization Project. Lowry says "with some many budget cuts, the national historical landmarks are suffering." Hampton House, located at 535 Hampton Lane, Towson, was the first site selected as a National Historical Site for its architectural significance by the U.S. National Park Service. A recent newsletter to the LGC members notes that the money donated to the Hampton Green House Project will lay the ground work for many horticultural endeavors such as junior garden clubs, youth gardeners, and school visitations including hands-on activities with plants.
The Lutherville Garden Club is currently accepting members. They meet the first Thursday of every month from September till May, at the Providence United Methodist Church, with lunch at 11 a.m. followed by a talk by a guest speaker. For information on the club, call 410-823-5365 or email Linda Tingle, membership chair, at lintingle(at)comcast(dot)net, or http://www.fgcofmd.org.