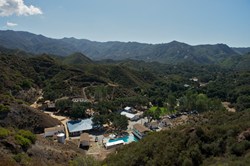 Inspiring and preparing young people to live consciously with themselves, one another, and the planet.
Calabasas, CA (PRWEB) July 18, 2013
The International PCM® Education Summit is a look at education through the Process Communication Model® lens. Attendees will learn, experience and engage with PCM® experts from all over the world. MUSE School CA will be highlighted having fully integrated PCM into the culture of their students, staff and parents. This 2-day summit is for educators, parents, administrators and facilitators who have completed PCM® training and will be held at the Malibu Canyon Sustainable Learning Center.
Children have their own natural style, psychological needs, and preferences – and their own ways of communicating them. Designing a motivating learning environment at MUSE School CA, therefore, involves creating a clear connection between their staff and faculty and each child. To enhance and enrich their ability to make those connections, MUSE School CA implements the Process Communication Model (PCM®) as a communication tool. "PCM-trained MUSE staff observe, coach and support our staff, ensuring that we are consistently applying the PCM tools and reaching our students as effectively as possible," says Suzy Amis Cameron (Founder of MUSE School).
Process Communication Model (PCM®) is an internationally acclaimed language-based personality and communication model developed by Dr. Taibi Kahler. PCM® provides a reliable and validated method of identifying and understanding personality structures, the impact of life events, and communication dynamics. Based on a scientific award–winning clinical discovery Process Communication has been researched through thirty years and experienced by almost a million people on five continents in such applications as sales, business, education, politics, religion, medicine, parenting, and personal relationships. "Taibi Kahler is a genius. He knows more about personality dynamics than anyone I know in the world." –President Bill Clinton
Presenters include renowned Taibi Kahler (Developer of PCM®), Dr. Terrence McGuire (Former Psychiatric Consultant at NASA), Judith Ann Pauley PhD (CEO of Process Communications Inc.), Joseph F. Pauley (President and COO of Kahler Communications), Suzy Amis Cameron (Founder of MUSE School), Rebecca Amis (Founder of MUSE School), Jeff King (Head of MUSE School) and Nate Regier (Founding Co-Owner of Next Element Consulting, LLC). Attendees from around the world will be coming to participate in the International PCM® Education Summit. Countries attending include: United States, Austria, France, Lichtenstein, UK, Netherlands, Germany, Japan, Belgium, New Zealand, Luxembourg.
About MUSE School CA:
Founded in 2006 by Suzy Amis Cameron and Rebecca Amis, MUSE School CA's mission is to inspire and prepare young people to live consciously with themselves, one another, and the planet. Through individual and passion-based learning, MUSE students achieve academic excellence, learn self-efficacy, exercise sustainability, and become compassionate global champions. As one of the greenest campuses in the United States, MUSE supports spontaneous learning at every turn of its 22-acre space, enticing children to explore, create, discover and reflect. MUSE School CA is a 501(c)3 non-profit school located in Calabasas, CA governed by a Board of Directors that is responsible for strategic planning, policies, and the fiscal stability of the organization. For more information visit http://www.museschool.org.
About Next Element:
As a majority women owned company, a majority left-handed team, and with personality structures representing Base or Phase of five of the six personality types, Next Element knows diversity. Embracing the philosophy that good process and strong community is a core component of a successful business, the NE team applies these principles in all aspects of operations. Founded in 2008, Next Element has grown to five employees, serves clients globally, and was just named a finalist for Small Business of the Year by the Wichita, KS metro chamber of commerce.