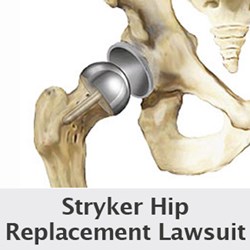 If you or someone you love were injured by Stryker Hip replacement recall, please visit yourlegalhelp.com, or call toll-FREE 1-800-399-0795
Columbus, OH (PRWEB) July 17, 2013
Wright & Schulte LLC, an experienced medical device injury law firm, reports that Stryker hip replacement lawsuits are now moving forward in consolidated litigations at both the state and federal level. Court records show that at least 161 Stryker hip lawsuits filed after the July 2012 announcement of the Stryker Rejuvenate and ABG II hip stem recall are now pending in Bergen County Superior Court, where they have been consolidated for coordinated pretrial proceedings. The next Case Management Conference in the New Jersey Stryker Rejuvenate hip lawsuit litigation has been scheduled for July 17th. (In re Stryker Rejuvenate Hip Stem and the ABG II Modular Hip Stem Litigation, No. 296)
At the same time, some 159 Stryker hip lawsuits have been filed in a federal multidistrict litigation in U.S. District Court, District of Minnesota. In a Court Order dated July 5th, the judge overseeing the federal Stryker Rejuvenate lawsuits designated an interim counsel to work on behalf of plaintiffs at least until the Court conducts its first Status Conference, which will take place sometime in August. (In Re: Stryker Rejuvenate and ABG II Hip Implant Products Liability Litigation, MDL No. 2441)
Wright & Schulte LLC is offering free Stryker Rejuvenate recall lawsuit consultations to individuals who suffered serious complications due to the recalled Stryker Rejuvenate and ABG II Modular-Neck Hip Stems, including:

Metallosis
Tissue death
Osteolysis
Damage to bone and tissue
Inflammation
Premature failure of the implant
Infection
Loosening of implant
Formation of pseudotumors
For more information on filing a Stryker hip implant recall lawsuit, or to arrange for a free legal consultation, please visit yourlegalhelp.com.
According to court documents, all of the Stryker Rejuvenate lawsuits pending in state and federal courts allege personal injuries due to the Stryker Rejuvenate and ABG II hip stems. Plaintiffs in Stryker hip lawsuits have allegedly suffered metallosis, necrosis, osteolysis and other serious complications. According to their complaints, many of these patients have undergone revision surgery to have their failing Stryker hip removed, while others will likely need revision surgery in the future.
According to the Stryker Rejuvenate hip replacement recall notice, the Rejuvenate and ABG II hip stems are prone to fretting and corrosion at the modular-neck junction, and can generate excessive amounts of metallic debris, placing hip implant recipients at risk for pain, swelling and adverse local tissue reactions. All patients affected by the Stryker Rejuvenate recall have been advised to undergo metal ion blood testing and imaging screenings, even if they are not experiencing problems with their hip.
[literature.ortho.stryker.com/files/REJUV_COM_23.pdf]
About Wright & Schulte LLC
Wright & Schulte LLC, an experienced personal injury firm, is dedicated to the belief that America's legal system should work for the people. Every day, the attorneys of Wright Schulte LLC stand up for the rights of people who have been injured or wronged, and fight tirelessly to ensure that even the world's most powerful corporations take responsibility for their actions. If you're looking for a law firm that will guarantee the aggressive and personal representation you deserve, please do not hesitate to contact Wright & Schulte LLC today. Free Stryker Rejuvenate and ABG II Modular-Neck Hip Replacement Stems lawsuits case evaluations are available through yourlegalhelp.com, or call 1-888-399-0795.
Contact:
Wright Schulte LLC
812 East National Road
Vandalia, Ohio 45377
1-888-399-0795
yourlegalhelp.com