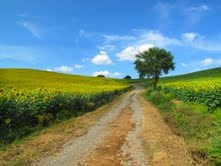 Composition being the essential foundation for imagery is atop the list hence the first article in this series.
(PRWEB) July 17, 2013
David Hoptman founder of Tuscan Light Photo workshops posts his first article taken from a series of works regarding Creative Process and Fundamental Photographic instructions. The first article to be released is "Use your LCD Monitor to Compose Astonishing Photographs." This article tackles the age-old subject of how to create a well-balanced Composition and lays out a workflow that absolutely is guaranteed to improve your photographic skills. After reading the short tutorial, pass it onto your friends and family or post it on social media. There is no mystery in making good imagery, it's only a matter of having the inside track and that is what David delivers during his five day Tuscan Photographic Workshop experience.
The second article written by David addresses Creative Process and exactly what and how to create an objective / subjective feedback loop. The third article covers the use of HDR high definition resolution photography. Article four deals with Intuition and how to get in sync with your subconscious for creative brainstorming. The last article covers Imagination and how to best implore its unique properties into a conscious dialogue and workflow.
Composition being the essential foundation for imagery is atop the list, hence, the first article in this series. All topics dealt with in these articles are examples of what David will be able to guide you through and help you to incorporate into your image making process during the Tuscan Light Photo Workshop experience.
David's take after teaching photography for many years is that when students go out to shoot, they are stuck in the point and shoot mentality, meaning they discover suitable subject matter to photograph but don't take the time or have the where with all to concentrate on composition. The common scenario noted by David proceeds like this, raise the camera, point and shoot, check histogram, adjust the exposure if need be, re-shoot then move on to the next image without closely studying and refining their composition. This type of mindset is not easily overcome; it is habitual for the most part and originates from naiveté assuming that photography is as easy as point, shoot. "This nonchalant approach to photography is pretty much a dead end and certainly not a the dynamic way to get involved with the magical experience of image making and creative process", says David Hoptman founder of Tuscan Light Photo workshops.
Owning the most expensive photo equipment and having the latest array of software for tweaking images is all for naught until the fundamentals of how to put together a suitable well balanced composition is achieved. Creating a harmonious photographic composition is not easily accomplished or learned. With today's sophisticated digital camera's sporting high quality LCD monitors, each photo made is instantaneously presented with zoom capabilities, histograms, shutter speed etc. The trick is to embrace new technology and incorporate it a daily workflow when possible. Overlooking the best opportunity to create and fine-tune a photo composition by ignoring tools that you have paid for is certainly counter productive to the creative process. The LCD Monitor is the best and only feature a digital camera has that can actually work as an aid in framing up the next great photograph. Just as there are clear guidelines that pertain to writing, music, sculpture, etc., there are similar parameters that apply to two-dimensional arts like painting, photography and printmaking. A strong composition regardless of the content generally makes the difference between a mediocre photography and a poignant imagery.
Back in the day of film, most commercial photographic work was done using a large format View Camera. As a rule, when making a large format photograph, a 4/5 sheet of Polaroid instant print film was exposed first to check composition, lighting, object placement, etc. before loading the film and tripping the shutter. The Photographer would diligently check every square inch of the Polaroid making adjustments to the composition; too close or too far away, should the camera be a bit higher or maybe just a tad bit lower to the right or left, lens choice, depth of field/aperture/ shutter speed etc. etc. By adopting this type of workflow images could be refined one Polaroid at a time. When the composition is right in conjunction with the lighting, time of day etc. it's time to pull out the film and make the photo. This workflow model fits perfectly with today's digital cameras LCD monitors giving the photographer instant feedback with every click of the shutter just as the Polaroid did for large format photographers. Compose, shoot, check the LCD monitor, adjust re-shoot, adjust-reshoot as many times as necessary until the image is well balance within the camera's viewfinder. In essence, this workflow allows the photographer to become his own best critic each time another shot is posted up.
Creating a good composition is a dynamic process just as are all creative endeavors. Photographers approach image making, interpretation and expression of self differently as we are unique individual seers. Creating a good well-crafted composition takes time, patience, thought, consideration, experimentation and of course being at the right place at the right time. "Dynamic Mode" relative to composition is acting, interacting and reacting to what is going on around and within, reflecting, composing, fine-tuning and finally capturing. When not working dynamically in conjunction with the LCD monitor while framing up the next photo its easy to miss the mark, hence efforts to stalk, capture and display prize images will more than likely translate into a cliché or worse yet, mundane imagery.
The relationships of objects within a scene are affected as one raises the cameras vantage point higher or drops down lower as well as from side to side. There are lens, aperture and shutter speed choices to make as well as pointing the camera from level, up, down, swing to the side etc. etc. These are all creative choices one makes when composing and each additional adjustment will most definitely affect the final composition. Computing all the variables while creating a good composition can be overwhelming for anybody, hence a prescribed workflow means taking compositional efforts step by step. With a little bit of practice and perseverance, one begins to see how a small adjustment affects the whole leading to the next adjustment and so on until a good well- balanced poignant image has been captured
When scouting around for a photo OP, try to stay focused on light quality, shadows, color, or any other type of stimuli that could possibly work in a photographic sense. The more deliberate one is while composing, the more intimate one will become with the physicality of the scene and its particular nuances. More times than not when dynamically composing a photograph, intuition reveals what the particular environment is emoting, hence, details that were previously hidden may slowly began to become more obvious enabling the photographer to discover what he may have passed by due to the half-hazard point and shoot syndrome which should be avoided at all costs.
There are always various aspects to consider when stalking out the next compositional take. Find the location that gives a good vantage point, slow down, frame it up and make the shot. Check every inch of the LCD monitor, see what is working and what is not. Make adjustments and see how it affects the overall composition, then press the shutter release and continue to do so no matter now many times needed until you feel confident about the image composition. Make your final assessment using the LCD monitor. CLIK! Pack it up and move on to your next location. That is the Way!