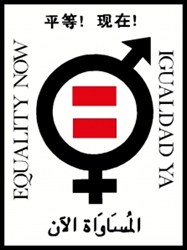 Equality Now believes strongly in partnerships, coalition-building and reciprocity in the exchange of information and ideas to the benefit of all women and girls.
Seattle, WA (PRWEB) July 24, 2013
In a recent interview, Women for One Founder, Kelly McNelis Senegor, speaks to Equality Now about their vision of a gender equal world to protect and promote the human rights of women and girls around the world. Equality Now's Communications Manager, Karen Asare, explains the launch of a new year-long campaign named Survivor Stories. This project features first hand narratives from survivors of trafficking and sexual exploitation from around the world.
Equality Now works for the protection and promotion of the human rights of women and girls around the world. Working with grassroots human rights organizations and individual activists since 1992, Equality Now documents violence and discrimination against women and mobilizes international action to support efforts to stop these abuses.
Kelly McNelis Senegor is the founder of Women for One. Her vision for all women of the world is to empower them with the tools they need to become successful and authentic each day of their lives. Women for One is a global community of women encouraging authenticity and inspiration. This movement encourages women of all ages, ethnicities and backgrounds to exchange authentic dialogue by sharing life lessons and supporting one another to create a powerful new vision for their life. Since its inception two years ago, Women for One has engaged a social media reach of over 7 million users from over 50 countries, on five continents.