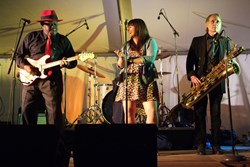 The 2013 line up is the best we have ever had.
Long Beach Peninsula, Wash. (PRWEB) July 18, 2013
Adding sizzle to summer at the beach, Blues and Seafood and Jazz & Oysters promise crowd-pleasing outdoor musical performances as well as mouthwatering food. The back-to-back events take place Aug. 16 through 18, 2013, on Washington's Long Beach Peninsula.
Overlooking a bustling marina, Blues and Seafood will bring nine hot performances to an outdoor stage at the Port of Iwaco, on August 16 and 17.
"The 2013 line up is the best we have ever had," says festival organizer Bruce Peterson. "This year we are bringing in huge blues talent."
Festival opener will be The Robin Gibson Band with Kenny Blue Ray on Friday, Aug. 16, at 7PM. The All Star Jam, at 8:30PM, will showcase the area's top blues artists, the North Coast Blues Band, with The Heartbreakers, the Northwest's premier female blues singers.
The day-two (Aug. 17) line up will start at 4PM with Kevin Selfe & The Tornadoes, followed by the fresh, "Crime-A-Billy" sounds of The Strange Tones and the Volcano Vixens at 5:30PM, and the Norman Sylvester Band, billed as "The Original Northwest Boogie Cat," at 7PM. Closing the festival, will be the not-to-be-missed "icy hot" guitar sounds of Coco Montoya, at 8:30PM.
With a full afternoon of great music, grilled oysters, sausages, sweets and beverages, Jazz & Oysters will transform Wilson Field (25815 Sandridge Road, Ocean Park) into a laid-back, open-air jazz club, from noon until 5PM, on August 18. Performers will include Patrick Lamb and Acústica.
"Patrick is one of those extraordinary performers who combine raw talent and energy with a singular ability to captivate an audience with his charm, sincerity and pure magnetism," said Diana Thompson, event spokesperson. "He combines the influences of Funk, Soul, R&B, and a flavor of Jazz to create his own unique sound."
Acústica – offering a "magnetic fusion of intercultural and linguistic musical experience" – will entertain with blended ethnic sounds performed by multilingual vocalist Dolores Levine accompanied by Dave Ambrose on bass, Matthew Crichton on percussion and John Orr on guitar.
Open seating is on a grass lawn (lawn chairs and blankets suggested) with a canine relaxation area reserved for dog owners with well-behaved, leashed dogs.
Tickets for both events, available for purchase online through Aug. 14, are $15 for Friday, $25 for Saturday, $35 for a Friday/Saturday combination ticket, and $20 for adults, $10 ages six through 18, on Sunday. Free admission is offered on Sunday for children under six years, as well as Active Military and their families. A full-weekend ticket for Blues and Seafood and Jazz & Oysters is $50 per person.
About the Long Beach Peninsula
With its mix of sensational restaurants, local seafood, ocean view lodging, lively festivals, unique museums and attractions, landmark lighthouses, fine art galleries, meandering trails, birding spots, state and national parks, and, above all, its 28-mile-long white sand beach, the Long Beach Peninsula continues to be one of the Northwest's most enjoyable and refreshing coastal destinations. Located two hours from Portland and three from Seattle, the Long Beach Peninsula is a longtime favorite for those seeking easily accessible outdoors, great food and affordable creature comforts. For event and visitor information, please call the Long Beach Peninsula Visitors Bureau toll free at 1-800-451-2542, or access http://www.funbeach.com.