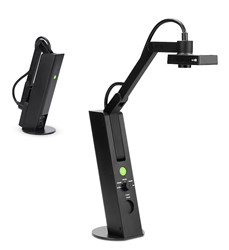 Sunnyvale, CA (PRWEB) July 18, 2013
IPEVO's longstanding commitment to document cameras for the education and business communities continues with their newest release: the VZ-1 HD Dual-Mode Document Camera. The VZ-1 is the latest in a popular line of document cameras from IPEVO, an industry leader in education technology. These cameras, which include the Point 2 View and Ziggi-HD, capture video in real time for projections, teaching sessions, presentations and remote collaborations. VZ-1 HD is scheduled to be released in August at a price of $139, and will be available from the IPEVO Online Store at http://www.ipevo.com.
Unlike previous IPEVO doc cams, VZ-1 HD functions in one of two modes, and has ports for both VGA and USB connections. VGA can connect VZ-1 directly to a projector or monitor, and thus a computer connection is not needed. Alternately, USB can connect VZ-1 to either PC or Mac, which can then be hooked to a projector. When used with a computer, VZ-1 can take advantage of included IPEVO Presenter software for a variety of image customizations, snapshot mode and more.
VZ-1 HD features a 5.0 Megapixel camera capable of a variety of high-definition resolutions up to 2592 x 1944 pixels on PC or Mac, or 1920 x 1080 pixels when using VGA. This, along with a Macro mode for close-ups, allows for large-screen projection fine details for text documents, 3D objects, artwork, and devices such as tablet computers and smartphones.
A hallmark of IPEVO document cameras has been continued with the VZ-1: a multi-jointed swing-arm which allows the user to position the camera head at any height and angle for speed and convenience. Additionally, a swiveling head delivers proper orientation. A built-in LED light for illumination, an exposure toggle switch, and two focus modes round out the VZ-1's comprehensive suite of features.
"Versatility was our controlling idea when we created the VZ-1 HD," said Royce Hong, CEO and big head of design for IPEVO. "Many educators told us that they wanted the flexibility to either connect to their computer, or to connect directly to their classroom projector or monitor. VZ-1 HD is an evolution for our iconic document camera line, delivering the ease of use customers expect from an IPEVO doc cam, and adding dual-mode convenience."
The VZ-1 HD Dual-Mode VGA/USB Document Camera will be availabl in August for $139 at the IPEVO Online Store at http://www.ipevo.com.
About IPEVO
IPEVO designs and sells innovative products to enrich today's connected lifestyle. We recognize the immense potential of new technologies to help people create, teach, learn, and inspire. From classroom to living room to conference room, IPEVO is dedicated to making technology more available, accessible, and affordable for all.
For more information, visit http://www.ipevo.com.