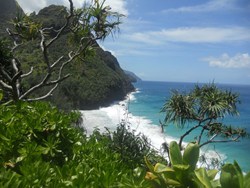 Many people underestimate the powerful energies of the Hawaiian islands.
Las Vegas, Nevada (PRWEB) July 19, 2013
Spirit Quest Tours has created a group travel opportunity for spiritual travelers and environmentalists who are interested in exploring the harmony, energy and beauty of Hawaii's Garden Isle: Kaua'i. The Heart & Soul Adventure to Kaua'i will take place in October.
According to Spirit Quest co-founder Halle Eavelyn, the Hawaiian adventure will enlist the expertise of local guides who will share their deep knowledge of the spirituality and history of the Garden Isle.
Tour Leaders Yves Nager and Eunjung Choi will guide guests to sites where ancient rituals were held and Hawaiian history was created. The group will participate in special ceremonies designed to awaken their consciousness and open their minds.
"Many people underestimate the powerful energies of the Hawaiian islands. The seven islands can map to the seven chakras of the human body, and in ancient times, Kaua'i was considered to be a sacred island where individuals participated in rituals in locations that contain sacred energies. These energies of the island helped awaken consciousness and prepare the chosen individuals for important journeys and spiritual work in early civilizations," Eavelyn says.
Kaua'i offers sparkling blue green waters and incredible beaches, as well as amazing flora and fauna. Guests will have the opportunity to connect with the energy of the island through an itinerary that will include visits to the island's most famous sites, meditation and special ceremonies in ancient ritual locations, hikes through the tropical jungles to ancient volcanos, and the enjoyment of local cuisine, music and dance.
"Kaua'i represents a wonderful balance of harmony between the seen and unseen. A spiritual journey to Kaua'i awakens the soul and creates a joyful energy that can feel like heaven on earth," explained Choi, one of the trip's co-leaders.
"A Spirit Quest Tour to Kaua'i is a special way to see the island. The group experience is a major part of the adventure, and like-minded travelers become life-long friends while spending time together in sites of worship, history, power, mystery and magic," added Eavelyn.
To reserve a place on the Heart & Soul Adventure to Kaua'i, contact Spirit Quest Tours at 877 406 5206. For more information about the island, the itinerary, and the innovative travel opportunities provided by Spirit Quest Tours, visit the Spirit Quest Tours website at http://www.spiritquesttours.com and blogs at http://www.spiritquesttours/blog.