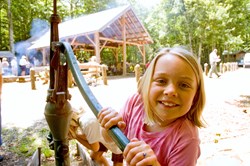 Best Places to Live in Western North Carolina
Asheville, North Carolina (PRWEB) July 17, 2013
So, what's a kid to do with free time and energy to burn in the Blue Ridge Mountains? Kids who live in at Balsam Mountain Preserve, a private gated North Carolina mountain community are met with scores of activities just waiting for them to jump in and enjoy. Back by popular demand, Natalie Altendorf is now the new Equestrian Director at this award winning equestrian community. Altendorf spent two years as a Balsam Mountain Preserve's trail guide and is ski instructor at Cataloochee Ski Area during the winter months. Her appreciation for nature and the Blue Ridge Mountains is contagious. Balsam's Horse Camps are just one of the exciting kids camps at Balsam's 4,400 acre neighborhood. Here's more:
Adventure Day Camps
Arts & Nature Camps
Wild About Animals Camps
Wild About Water Camps
Horse Camps
While the natural environment of this breathtaking piece of Asheville real estate is appealing to every generation, during the summer months, kids have the edge with a wide variety of camp activities to choose from. Each week there is a different theme created to appeal to campers of all ages and with many different interests. There's something for everyone! To name just a few, there is an art and nature camp with scavenger hunts, crafts, and adventures along the creek; all while learning about the natural world in which the young ones live. There's a horse camp where kids not only get to learn or practice riding and riding the trails, but they also learn basic horse training, grooming, and feeding. There is a water camp where kids explore different water holes, take waterfall walks, participate in boating and more while learning about "aquatic critters." Winding up the summer is the Annual Adventure Camp where kids participate in group adventures of all types. What a great way to spend a summer!
Summer camp is not the only game in town. Balsam Mountain Preserve has it's own equestrian center where kids are always welcome. The Equestrian Center is unique because it is the only private gated North Carolina mountain community near Asheville that offers this amenity. Kids and families are offered riding lessons in their riding arena as well as guided trail rides on the groomed trails which span over 30 miles through this scenic piece of Asheville real estate. It's an outdoor dream come true for kids of all ages at Balsam Mountain Preserve kids camps.
Kids can also participate in sports at the Ruby Valley Sports Complex. Kids who like to swim will enjoy the Junior Olympic sized, heated swimming pool with it's own waterfall. There's even a toddler pool for the little guys. The center has Har-tru tennis courts where kids can participate in junior tennis clinics or enjoy a match with family and or friends. Even on rainy days kids and their friends meet at the center's clubhouse to play indoor games like table tennis and foosball. The sports complex is a popular favorite of kids at the preserve.
What kid doesn't like sleeping under the stars? Balsam Mountain Preserve, convenient to the Blue Ridge Parkway entrance, has Private Family Camping. Kids and their parents can cook meals and toast marshmallows over open fires, fish in streams for trout, and splash around in the cool mountain water. For sleeping, there are tent areas as well as bunk houses, and families can bring their own gear or borrow gear from the camp.
Also welcoming children is the Balsam Mountain Preserve's golf course designed by Arnold Palmer. Kids can go out and play the links with their families, participate in junior golf clinics, and enjoy the spectacular scenery while walking or riding around the course. It's a great time to enjoy the natural beauty of the preserve and take in the fresh mountain air at any of the Balsam Mountain Preserve kids camps.
This private gated North Carolina mountain community on some of the best Asheville real estate near the Blue Ridge Parkway entrance is a spectacular haven for active, adventurous, inquisitive children. They will sleep like babies after their fun-filled days in the great outdoors. There's nothing better...
Buyer's searching for Asheville real estate with children or grandkids will find it worth while to see what Balsam Mountain Preserve can offer.
About Real Estate Scorecard
Real Estate Scorecard writes unbiased real estate reviews providing in-depth information about popular gated communities in Florida, Georgia, North Carolina, South Carolina and Tennessee, all in an effort to help people discover where to retire in the Southeast.
Website: http://realestatescorecard.com