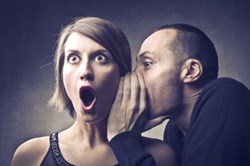 Some people try to make a difference by being friends with everyone – trying to please everyone all the time – and they quickly realize they're being forgotten or ignored.
(PRWEB) July 18, 2013
In a recently published blog titled, "3 Surprising Secrets We Can Learn from Edward Snowden," Predictable Profits founder and CEO Charles Gaudet points out a few important lessons that marketers and small business owners can learn from the highly polarized public discussion about Edward Snowden, as well as lessons to be taken from the actions of Snowden himself.
Gaudet says, "By leaking information, Ed Snowden quickly became and enemy to tons of people, and a hero to just as many others. People are viciously divided, but they are certainly talking… Some people try to make a difference by being friends with everyone – trying to please everyone all the time – and they quickly realize they're being forgotten or ignored."
He goes on to explain how a division between supporters and opposition only makes people on either side feel more strongly about their stance, and in the world of marketing, this equates to passionate customer loyalty.
The blog focuses on three particular lessons, each drawn from Edward Snowden's brazen leak of top-secret information, and the public's reaction to his story in the news.
"If a brand or company was to make a controversial claim (remember, controversial doesn't mean 'bad,' it just means something that stirs the pot… like an outrageous guarantee or a totally redesigned version of a popular product), people will start talking to each other about it," Gaudet continues, "And that translates directly to word-of-mouth-marketing!"
Charles Guadet urges marketers, business owners, and entrepreneurs to consider how bold moves like Edward Snowden's can get people talking, even if it isn't always positive. He also reminds readers to seek lessons in unlikely places, and to gain insight from every situation that takes the public by storm.
The Predictable Profits blog regularly features expert advice for entrepreneurs, business owners, and marketers looking to boost profits, to provide greater service, and to capitalize on overlooked opportunities to achieve greater customer loyalty.
About Charles Gaudet:
Charles Gaudet is widely recognized as a leading small business expert for entrepreneurs who aren't willing to settle for mediocre profits, and want to out-think, out-market, and out-earn their competition. His business advice has been featured on Inc., Fox Business, Forbes, and many other media channels. On his website, PredictableProfits.com, he's endorsed by a range of clients, reporting that Charlie's been the driving force behind marketing strategies earning as much as 6-figures in as little as just 24 hours, and anywhere from 30% to over 100% growth in under a year. He is the founder of Predictable Profits and the Publisher of The Predictable Profits Insiders Club. Follow Gaudet on Twitter at http://www.Twitter.com/CharlesGaudet.
About Predictable Profits:
Predictable Profits is a leading small business marketing company, specializing in finding overlooked marketing opportunities commonly found in most small-to-medium sized businesses for generating quick, dependable, and predictable profits without having to spend any more money in advertising.
For more information on how to grow your business, visit http://www.PredictableProfits.com and take the free Profit Profile Business Assessment to receive an instant snapshot of the opportunities and strengths existing in your business today.