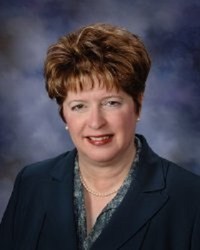 Joy is driven by her passion for rural communities and improving the healthcare that serves those communities.
Lenexa, Kan. (PRWEB) July 18, 2013
After conducting a nationwide executive search led by healthcare leadership solutions firm B. E. Smith, The McCready Foundation in Crisfield, Md., has hired Joy Strand as chief executive officer. A seasoned healthcare executive with nearly 35 years of healthcare leadership experience with critical access hospitals and community hospital systems, Strand will assume her new duties immediately.
"Joy is driven by her passion for rural communities and improving the healthcare that serves those communities," said Michael Hall, chairman of the board of directors for The McCready Foundation. "Her extensive community healthcare background and acknowledged success in leading organizations through transition while improving quality of care will be a great asset for our organization."
Prior to joining The McCready Foundation, Strand was administrator and chief operating officer at Borgess-Lee Memorial Hospital in Dowagiac, Mich., where she provided leadership to the 25-bed critical access hospital. In this role, Strand increased the emergency department volume by over 35 percent by successfully leading the expansion and renovation of the department. Strand also served as chief operating officer for Schoolcraft Memorial Hospital in Manistique, Mich.
"The McCready Foundation was seeking an experienced senior healthcare executive to provide operational leadership as well as design and implement a strategic vision to better position the organization for the future," said Laura Musfeldt, vice president of senior executive search for B. E. Smith, the healthcare executive search firm who conducted the nationwide CEO search. "Joy's excellent track record in leadership and organizational development was an excellent match."
Strand earned a master's degree in healthcare administration from Seton Hall University in South Orange, N.J. Additionally, Strand earned a bachelor of science from Grand Valley State University in Allendale, Mich.
About McCready Foundation:
McCready Foundation healthcare facilities in Crisfield, Md. provide comprehensive, coordinated care to the residents of Somerset County and the lower Eastern Shore. The foundation is comprised of the 16-bed McCready Memorial Hospital, the McCready Outpatient Center, the 76-bed Tawes Nursing and Rehabilitation Center and Chesapeake Cove, an assisted living facility. To learn more visit http://www.mccreadyfoundation.org.
About B. E. Smith:
Founded in 1978, B. E. Smith is a full-service healthcare executive search firm and one of the top-ranked providers of senior-level leadership services including Interim Leadership, Executive Search and Management Consulting. Veteran healthcare recruiters and regional healthcare experts partner with each client to create customized solutions. B. E. Smith's proven methodology has resulted in the recent placement of more than 900 leaders into healthcare organizations worldwide. The firm utilizes a comprehensive sourcing strategy incorporating the latest marketing techniques, association partnerships, social networking and one of the largest databases of skilled senior-level healthcare executives in the industry to deliver immediate results in today's complex healthcare environment. For more information, visit BESmith.com or call 855-254-8261.