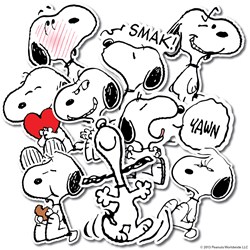 The new Snoopy sticker pack on Facebook enables fans to express every mood and activity through a classic Snoopy image.
New York, NY (PRWEB) July 17, 2013
Today, the Peanuts gang announced the exciting news that brings the humor and versatility of Snoopy to Facebook private messages: the Snoopy Sticker Pack, launching Wednesday, July 17. People can get all the unique Snoopy poses for free from the Facebook Sticker Store. To download the pack, click the smiley face icon where you type new messages and then click on the basket icon.
Want to send your Facebook friend a hug? Make it a beagle hug with a "Snoopy Love" sticker on a private message. Feeling a little under the weather? There's a "Queasy Snoopy" sticker for that. And of course, nothing says 'I'm so excited I just can't stand still' quite like Snoopy's "Happy Dance."
"The new Snoopy sticker pack on Facebook enables fans to express every mood and activity through a classic Snoopy image," says Leigh Anne Brodsky, Managing Director of Peanuts Worldwide and Iconix Entertainment. "We have an extraordinarily engaged fan base on Facebook, and because Peanuts is rooted in shareable bite-sized media content with the over 18,000 daily comic strips that Charles Schulz created, these charming and easy-to-use Snoopy Stickers lend themselves well to the genre."
Fans at San Diego Comic-Con can delve deeper into Snoopy and his many moods and personas by attending the Peanuts panel focusing on everyone's favorite beagle on Friday, July 18th at 3 p.m.
About Peanuts Worldwide
The Peanuts characters and related intellectual property are owned by Peanuts Worldwide LLC, a joint venture owned 80 percent by Iconix Brand Group, Inc. and 20 percent by members of the Charles M. Schulz family. Iconix Brand Group, Inc. owns, licenses and markets a growing portfolio of consumer brands including: CANDIE'S (R), BONGO (R), BADGLEY MISCHKA (R), JOE BOXER (R), RAMPAGE (R), MUDD (R), MOSSIMO (R), LONDON FOG (R), OCEAN PACIFIC (R), DANSKIN (R), ROCAWEAR (R), CANNON (R), ROYAL VELVET (R), FIELDCREST (R), CHARISMA (R), STARTER (R), WAVERLY (R), ZOO YORK (R), ED HARDY (R), SHARPER IMAGE (R), UMBRO (R), LEE COOPER (R), ECKO (R), and MARC ECKO (R). In addition, Iconix owns interests in the ARTFUL DODGER (R), MATERIAL GIRL (R), PEANUTS (R), TRUTH OR DARE (R), BILLIONAIRE BOYS CLUB (R), ICE CREAM (R), MODERN AMUSEMENT (R), and BUFFALO (R) brands. The Company licenses its brands to a network of leading retailers and manufacturers that touch every major segment of retail distribution from the luxury market to the mass market in both the U.S. and worldwide. Through its in-house business development, merchandising, advertising and public relations departments Iconix manages its brands to drive greater consumer awareness and equity.