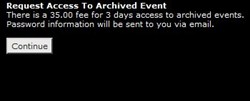 "I'm so excited about being able to collect a fee BEFORE my clients see their images. On an event where sales had been on a downward trend, we increased our sales 250% over the previous year for a college commencement." -William Hodge
Traverse City, MI (PRWEB) July 24, 2013
Today's market for photographers is more competitive than ever. This is why MorePhotos.com is committed to providing new tools and pricing options to pro photographers. Access fee is a unique feature in the market that really taps into the psychology of image sales.
There is an innate desire to view event photos and share them. Access Fee taps into this desire by charging a fee to view a group of images. Here is the workflow:

Client locates event on Photographer's website
Client pays access fee to view images for 3 days.
Client receives a gift certificate towards purchase.
Both the access fee amount and gift certificate amount are set by the photographer and do not have to be the same. A recent photographer set the access fee at $10 and gift certificate amount at $20. The results were way better than expected. Sales increased two and a half fold on a commencement event over the year prior ($1,800 to $4,500) which had been on a downward trend.
"I'm so excited about being able to collect a fee BEFORE my clients see their images. On an event where sales had been on a downward trend, we increased our sales 250% over the previous year for a college commencement. On top of that, we've had zero complaints, which was our biggest hurdle to creating the fee. It was a big concern that turned into a non-issue." –William Hodge
Bill saw his sales jump with graduation images, but success has been seen with sports photography as well. The initial access fee might be lower with action sports, but if a client pays $5 and receives a $10 certificate to use towards the smallest package, sales will increase. Nobody wants to throw 10 dollars in the trash.
Speaking of not wasting money, MorePhotos also released two new pricing options that include unlimited images. Pro12 and Pro8 are 12% and 9% commission respectively. Now photographers can have an SEO and mobile friendly site with a cart for as little as $19/month by using the Pro12. The Pro8 plan is $29/month. Of course, the Classic Plan is still available for those who prefer 0% commission.