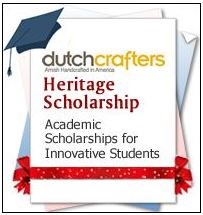 "I am humbled and grateful to receive the Dutchcrafters Amish Furniture Heritage Scholarship," said Joshua Thomas, one of this year's proud winners.
(PRWEB) July 18, 2013
DutchCrafters Amish Furniture, the largest online supplier of solid wood, Amish furniture, has announced the winners of this year's "Amish Furniture Heritage Scholarship." The scholarship is designed to help students from around the nation achieve their scholastic goals. Of the nearly 1,000 worthy entries, DutchCrafters made the difficult selection of the five applicants they felt best fulfilled the requirements of the scholarship.
"I am humbled and grateful to receive the Dutchcrafters Amish Furniture Heritage Scholarship," said Joshua Thomas, one of this year's proud winners. "It allows me to pursue my education at Dartmouth College, where I will expand my breadth and depth of knowledge."
A resident of Leawood, Kansas, Joshua regularly volunteers at a local children's hospital and organizes food and coat drives. He currently works as a programmer for a Kansas City start-up company. The scholarship represents much needed financial assistance for his coming stint at Dartmouth, where he plans on double majoring in computer science and economics.
The winners of this year's Amish Furniture Heritage Scholarship come from diverse backgrounds and hail from towns all across the United States.
Sarah Halter, winner from Sulphur Springs, Texas, plans on using her scholarship money to aid in her studies of agribusiness management, where she has already won proficiency awards in floriculture and landscape management from her school. Sarah has been recognized for her achievement by numerous organizations, including her school's Future Farmers of America chapter, National Honor Society, and National Technical Honor Society. In addition, she regularly volunteers at her local hospital and as a Vacation Bible School Worker and more.
Peter Satonick, scholarship winner from Orange, Connecticut, is of the first generation of college graduates in his family. A regular in his high school's honor roll, he also enjoys volunteering at his local church, playing sports, and science. Peter's winning essay spoke of his unique experiences in his multicultural family, and how his younger sister significantly shaped who he is today. He plans to use the scholarship towards his studies at Worchester Polytechnic Institute, where he will major in biomedical engineering.
Also from a multicultural family, Marley Taylor is from Tijeras, New Mexico. Marley was raised with a strong moral compass and passion for truth and justice. The scholarship will help her refine her writing skills and fulfill her studies of International Service at American University. She hopes to one-day work to build and improve relationships between individuals, corporations, organizations and governments both domestically and internationally to make the world a better place.
"I am pleased to have a company such as DutchCrafters as a benefactor because I believe that it embodies a business model that will, hopefully, return to the U.S. business sector one day," said Taylor. "There is great value in people that take pride in their work, and I hope that with the financial aid that this scholarship has given me, I will be able to continue through college and into a career where I can also be proud of what I do."
The fifth and final scholarship winner is Ruiting "Christine" Qin of Milpitas, California. A gifted writer, Christine plans to use the scholarship to help her attain her English degree from UCLA. Inspired by her Chinese heritage and grandparents, both professors in Chinese literature, Miss Qin plans on one day teaching English literature.
"I am honored to be a recipient of the DutchCrafters Amish Furniture Heritage Scholarship," said Qin. "My heritage and cultural background as an American-Born-Chinese has strongly influenced the past 18 years of my life and will continue to impact my choices in the future."
DutchCrafters supplies the Internet's largest selection of American made, handcrafted Shaker and Amish furniture. As industry leaders, they offer the highest quality mission style furniture, polywood furniture, country style furniture, and polywood adirondack chairs on the market. DutchCrafters is proud of all the winners of this year's Amish Furniture Heritage Scholarship, and they look forward to helping more youths achieve their scholastic dreams well into the future.
About DutchCrafters:
Founded in 2003, DutchCrafters Amish Furniture is the largest online supplier of solid wood, American made, Amish handcrafted furniture. Their furniture is manufactured in the Amish woodshops of Pennsylvania, Ohio and Indiana. They are pioneers of utilizing the Internet to distribute Amish furniture. Their products are high quality, made with time-honored tradition and are authentically Amish. They are committed to excellent customer service and product knowledge. They have an A+ rating with the Better Business Bureau. For more information, visit http://www.dutchcrafters.com/ or follow them on Facebook, Twitter or Google+.