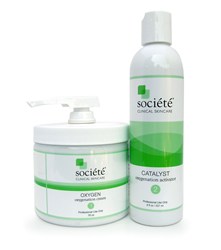 "…this oxygen treatment is one of the most effective I've experienced in my 23 years in the skincare industry." -- K. Webster of Sacramento
Atlanta, GA (PRWEB) July 17, 2013
Oxygen was initially used to enhance the healing of burns, but required pressurized oxygen tanks and hyperbaric chambers in which oxygen is introduced into the skin to assist with wound healing. Société Clinical Skincare has taken the wound-healing properties of oxygen and created a clinical-grade, two-step Oxygenation Treatment that increases circulation, evens out pigmentation and aids in easier extractions.
Société's Oxygenation Treatment was formulated based on the premise that stable, natural oxygen increases cell metabolism – not to be confused with unstable forms of oxygen, known as free radicals. With age, capillaries break down, reducing blood flow and oxygen levels, which results in lifeless skin. This lack of oxygen diminishes collagen production, causing fine lines, wrinkles and age spots. Société's oxygen products are based on stabilized hydrogen peroxide, which delivers molecules directly into the skin, bringing back radiance and freshness.
The Oxygenation Treatment has numerous benefits, including:

Promotes healthier skin and increases cellular metabolism prior to chemical peels.
Increases blood flow and circulation, promoting healing post surgery, laser or peel.
Sterilizes the skin for extractions and makes extractions and debris removal easier, resulting in a reduction of acne breakouts.
"Société has outdone itself again- this oxygen treatment is one of the most effective I've experienced in my 23 years in the skincare industry," said K. Webster of Sacramento. "As an educator, it's my job to research, learn and test the 'latest and greatest' products, and this is the first oxygenating treatment I've felt comfortable using on my clients. It left their skin looking radiant, with less visible lining, and it definitely helps with asphyxiated skin. I love how calming and soothing it is to sensitized skin, and how easy extractions are afterwards – this has become my new 'go to' treatment."
The Oxygenation Treatment is a two-step procedure that is administered by a trained professional in a clinic setting. A foam-like cream is first applied to clean, dry skin; then, a few drops of a catalyst activator are applied over top, warming as it is massaged into the skin, doubling or tripling the foam. The clinician massages the skin for up to three minutes, leaving the treatment on for up to 10 minutes.
Developed and tested in a clinical setting, Société's unique formulations contain high performance, patent-pending ingredients and are paraben free, propylene glycol free and sodium lauryl sulfate free – and further-reinforce the nexus between science and skincare.
Société is available only through a physician's office and uses a customized approach to treating a variety of skin types, including hyperpigmentation, acne-prone, hypersensitive and aging skin. This delivery system puts the professional in control of patient results, removing the 'self treatment/self diagnosis' that oftentimes reaps lackluster results. Visit http://www.Societeskincare.com to view the full line of Société's products and peels.
About Société Clinical Skin Care, LLC
Founded in Atlanta, GA in 2008, Société Clinical Skin Care's exclusive products are created with the professional skin care specialist in mind. Developed and tested in a clinical setting, the innovative formulations contain high performance, patent-pending ingredients that are free of parabens, propylene glycol and sodium lauryl sulfate. The Société Transition Peel System is a customized approach for treating a variety of skin types, putting the skin care professional back in control of patient results. Sold solely through the physician community the Société line is easy to prescribe and designed to increase overall patient satisfaction while maximizing clinic profits.
Société products are distributed domestically in the United States, and internationally in five countries, with additional distribution and product line expansion planned throughout 2013.
One of Société's core priorities is its environmental impact, which is taken into account throughout all facets of the business, including: recyclable product packaging, eco-friendly ingredients, recycling, paperless systems and renewable energy. Société products are cruelty-free and never tested on animals. For more information, visit http://www.Societeskincare.com or http://www.facebook.com/Societeskincare.
Media contact:
Cheryl Monkhouse, Public Relations Director
404.822.2036
cheryl(at)Societeskincare(dot)com