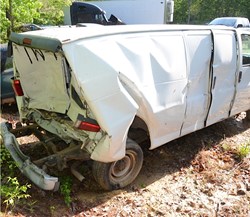 Charlotte, North Carolina (PRWEB) July 19, 2013
Attorney Michael Workman of the Workman Law Firm in Charlotte, North Carolina today announced another significant settlement arising from a tragic 18-wheeler truck crash. In his most recent case, a 69-year-old Charlotte, NC preacher, riding as a passenger in a pick-up truck traveling from Charlotte to Richmond, suffered multiple injuries in a rear-end tractor-trailer collision on Interstate 85 in Henderson County, North Carolina.
According to the accident victim's North Carolina Superior Court lawsuit, case number 12-CVS-9428, an 18-wheeler truck owned by Thomas Enterprises of Greensboro slammed into the rear of the pick-up truck's towed van, propelling the pick-up truck 70 yards down the freeway. The victim suffered a fractured wrist, multiple fractured vertebras, and a mild brain injury. Her broken bones required a three-month stay in a skilled nursing facility. Miraculously, her injuries substantially resolved and she's returned home.
The accident victim's attorneys, Michael Workman and Brian deBrun of Charlotte, explained that she filed suit last year. Records obtained during discovery indicated that the truck driver had not taken his prescription diabetic medications for at least three months prior to the crash. An accident reconstructionist testified that while the driver had over ten seconds to avoid the crash, he didn't hit his brakes until the last second.
The defendant trucking company and its driver contested both liability and damages. They claimed that debris thrown from the pick-up truck's bed distracted the driver. They also argued that the victim's injuries had almost fully healed. Shortly before the May, 2013, trial date, the accident victim accepted the defendants' offer to have judgment entered against them in the sum of $750,000. The judgment has been paid.
Attorney Michael Workman commented that he's seen a dramatic increase in serious truck crashes on mid-Atlantic interstate highways. Last year, he settled a tractor-trailer case arising from an accident in Wythe County, Virginia. His client, an 82-year-old Charlotte, NC resident, was returning home when a truck driver traveling behind him became distracted during a cell phone call. The big rig clipped the rear of his car, causing it to careen into a retaining wall at 70 mph. He barely survived, spending 18 months at a local nursing home. Once his case settled, however, he was able to secure round-the-clock nursing care and return home. His $2.5 million settlement was a top-ten personal injury settlement in Virginia last year.
Contact:
Michael Workman
Workman Law Firm, PLLC
1208 South Tryon St.
Charlotte, NC 28203
704.714.6551
mike(at)workmanlawfirm.com
website: workmanlawfirm.com
###