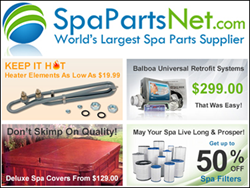 "When you notice your skin getting red in extreme temperature, that is part of the fascinating and complex process your body uses to regulate its temperature," said a SpaPartsNet representative
(PRWEB) July 18, 2013
SpaPartsNet, the world's largest spa parts supplier, today released a series of hot tub safety warnings related to hot water temperatures. SpaPartsNet's experts detail how the body maintains temperature and how this important biological process can be suppressed in a hot tub without taking proper precautions. During cold weather, the body sends blood to the extremities and in cases of severe cold, redirects blood to the body's core. In tremendous heat, the body sends blood to the surface to cool its core and then sweats to further the cooling process. SpaPartsNet warns that excessively high temperature settings for a hot tub can inhibit the body's innate cooling system. The body works to maintain body temperature at 98.6 degrees Fahrenheit, and hot tubs set in excess of 100 degrees can be dangerous, especially if the person is dehydrated. In order to enjoy one's hot tub safely, SpaPartsNet's experts have released the following recommendations:

Children under the age of 18 should not be in the spa if the spa heater has been set above 99 degrees.
Anyone who has just finished a rigorous workout routine should not soak in spa water above 99 degrees.
Anyone with high blood pressure or any type of heart condition should not use the spa above 99 degrees.
Anyone who has consumed an excessive amount of alcohol should never enter a hot tub.
"When you notice your skin getting red in extreme temperature, that is part of the fascinating and complex process your body uses to regulate its temperature," said a SpaPartsNet representative. "As the world's largest spa parts supplier selling everything from hot tub covers to spa heaters, we want people to enjoy their hot tubs, but we feel an obligation to ensure our customers do so safely. If you feel you must crank up the heat beyond 100 degrees, then please follow the advice of our experts. Stay safe, enjoy, and we hope you shop at SpaPartsNet soon."
SpaPartsNet's incredibly diverse selection includes the highest quality and most economical spa pumps, hot tub covers, spa filters, spa jets, and more. SpaPartsNet has the highest confidence in their products and thus also provides premier warranty support.
About SpaPartsNet
SpaPartsNet's mission can be summed up as providing the highest quality replacement spa parts at the best price, on time, every time. This vision has allowed SpaPartsNet to grow into the world's largest spa parts supplier. SpaPartsNet carries every type of spa part imaginable in every high quality brand imaginable including GE Motors, Aqua Clara, Balboa, Power Depot, and more. For more information, visit their online store at https://www.spapartsnet.com/, call them at 866.829.3660, or join them on Facebook, Twitter, Google+, and LinkedIn.