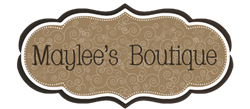 Throughout the month of July, Maylee's Boutique will be offering a special 10% discount on anything on their site.
Lehi, UT (PRWEB) July 23, 2013
Summer is here and as the heat rises and the days become longer, this becomes more obvious. Summer also happens to be the most popular season for weddings. This is why Maylee's Boutique is offering a discount on all purchases from their website.
Maylee's Boutique is offering 10% off of all their merchandise by entering the coupon code: MB10 when you check out. This is a great discount on Maylee's Boutique's already discounted prices. They offer only the highest-quality clothing at incredible prices. Some of the items they offer include:
Blossom Sleeveless Full Length Taffeta Layered Flower Girl Dress - This taffeta layered dress is perfect for any special occasion such as a wedding, Easter, as a flower girl dress, or in a pageant. With a Taffeta bodice, layered full-length skirt and detachable sash and flower. This dress is proudly made in the USA and is perfect for any baby, toddler, or little girl.
Blossom Sleeveless Satin & Embroidered Organza Flower Girl Dress - Choose this adorable tea length dress for any special occasion. This dress features a dainty satin bodice with embroidered organza skirt and detachable satin sash with flower.
Be sure to take advantage of this discount, because it expires on July 31. Maylee's Boutique features an extensive array of children's formal wear for any special occasion. All the items offered on Maylee's Boutique are made with only the highest quality materials and are designed to last. Whether using it for multiple occasions or storing it as an heirloom, the clothes from Maylee's Boutique will be around for years to come.
About Maylee's Boutique:
Jill Fox is the owner/operator of Maylee's Boutique. They specialize in offering high quality children's formal clothing at affordable prices
Contact:
Jill Fox, Owner
Maylee's Boutique
801-400-1623
http://www.mayleesboutique.com/