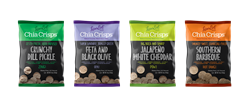 "...our team took the basic chip to a different level, enhancing the natural health benefits of black beans with omega-rich chia seed."
Wilton, CT (PRWEB) July 20, 2013
LesserEvil Healthy Brands, architects of the organic snacking experience, announces their Chia Crisps are now available in all Whole Foods locations in Northern California. The first region to take in the new line was the Mid-Atlantic, including over 30 locations in Kentucky, Maryland, New Jersey (Marlton and Princeton), Pennsylvania, Ohio, Virginia, and Washington, D.C. Whole Foods Market (WFM), a national supermarket chain, headquartered in Austin, TX, now operates more than 340 stores throughout the UK, Canada and 39 states in the United States. WFM, best know for their quality natural products and commitment to sustainable agriculture, will carry all four flavors of Chia Crisps.
"The LesserEvil family innovates classic snacking concepts that not only burst with flavor, but also provided incredible health benefits," said Charles Coristine, president and CEO of LesserEvil Healthy Brands. "Together our team took the basic chip to a different level, enhancing the natural health benefits of black beans with omega-rich chia seed. We are pleased to share this creation with Whole Foods Market customers."
Chia Crisps offer a healthy alternative to traditional potato or rice-based snack foods without compromising on the flavor. Made with black bean and milled with Salba® Chia, Chia Crisps offer a higher protein and fiber content than other chips. In addition, the chia seed provides a rich source of Omega 3, fiber, minerals, vitamin C and antioxidants. The Northern California stores will carry four-ounce bags of all four flavors: Southern Barbeque, Crunchy Dill Pickle, Jalapeño White Cheddar, and Feta and Black Olive.
About LesserEvil Healthy Brands
LesserEvil Healthy Brands is a snack food company founded in 2004 with the mission to create natural, healthier snack food than many other snack foods on the market. The company's award winning all-natural snacks are produced without trans fats, preservatives, artificial flavors and colors, high fructose syrup and gluten ingredients that many other snack products use. LesserEvil's snacks are full of flavor, and still gives people a sinfully delicious treat without the guilt. LesserEvil has innovated the snack industry with their LesserEvil solution. They believe that life is about balance, and they don't believe in being perfect. LesserEvil vows to continue its mission to fight bad snacking with a little goodness. Join them in their journey towards a LesserEvil life.