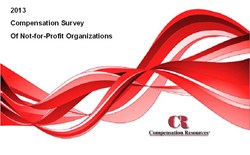 increase of 2.1% in the overall average of the Executive positions' Total Compensation Package in 2013
Upper Saddle River, NJ (PRWEB) July 18, 2013
Compensation Resources, Inc. (CRI) has released the results of their Compensation Survey of Not-For-Profit Organizations. This survey, targeted exclusively to tax-exempt organizations, was designed to capture compensation data of 127 positions within a broad range of not-for-profit classifications. There were 136 nationally-based organizations who participated in the survey. Compensation data is reported as of January 1, 2013 in the following dimensions:

Base Salary (Weighted Average, Average, Median, and 25th and 75th percentiles)
Bonus & Incentive
Other Compensation (executive positions)
Deferred Compensation (executive positions)
Nontaxable Benefits (executive positions)
This survey also reports the prevalence of various programs and practices relative to executive compensation, covering annual incentives, long-term incentives, various perquisites, supplemental benefits, and agreements, along with processes relating to staff positions.
Results show there was an increase of 2.1% in the overall average of the Executive positions' Total Compensation Package in 2013 comparing it to the 2012 results. Also, in regards to salary increase practices, all job levels stayed relatively consistent to 2012 with the projected increase for 2013 rising 0.5% as a whole. These increases are primarily based on merit/performance.
For more information or to order the survey, please contact Andrew Sellers at (877) 934-0505 x115 or visit our website at http://www.compensationresources.com.
About Compensation Resources, Inc. (CRI): CRI provides compensation and human resource consulting services to mid- and small-cap public companies, private, family-owned, and closely-held firms, as well as not-for-profit organizations. CRI specializes in executive compensation, sales compensation, pay-for-performance and incentive compensation, performance management programs, and expert witness services.