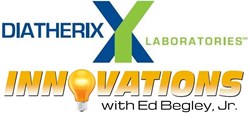 Huntsville, AL (PRWEB) July 18, 2013
Diatherix Laboratories, a clinical laboratory providing molecular diagnostic services to hospitals, physicians and healthcare providers, announced today that they will be featured in an upcoming episode of Innovations.
Diatherix specializes in testing for infectious disease with its TEM-PCR™ diagnostic technology. In this episode, Innovations will explore Diatherix' cost effective method for accurately identifying organisms in specific disease states. Audiences will be amazed by Diatherix Laboratories' ability to yield results in one day, the simplicity of their single sample collection, simultaneous identification of bacteria, viruses, and parasites, detection of bacteria in the presence of antibiotics, and more. Linking Diagnostics to Therapeutics is personalized medicine for a new standard of quality patient care while reducing healthcare costs.
"By participating in the Innovations series, Diatherix will be able to provide educational information to physicians, patients and health providers that demonstrates the use of TEM-PCR™ in the diagnosis of infectious diseases." said Dennis Grimaud, Chairman and CEO of Diatherix. "By integrating this propriety technology, we are better able to assist in accurate identification of infectious diseases that affects diagnosis and treatment of patients, resulting in better patient outcomes and lower healthcare costs."
"By providing accurate, fast yielding--cost effective test results, Diatherix Laboratories is helping provide peace of mind to patients," said Michele Nehls, producer for the Innovations series. "I'm proud to be able to educate our audience on Diatherix Laboratories and the remarkable things they're doing for improved patient care."
About Diatherix Laboratories:
Diatherix Laboratories, Inc., is an innovative, CLIA certified molecular diagnostic laboratory utilizing proprietary TEM-PCR (Target Enriched Multiplex Polymerase Chain Reaction) technology for precise detection of infectious disease linking diagnostics to therapeutics.
For more information, visit: wwwdiatherix.com or call PHONE 866-979-4242
About Innovations:
Innovations, hosted by award winning actor Ed Begley, Jr., is an information-based series geared toward educating the public on the latest breakthroughs in all areas of society. Featuring practical solutions and important issues facing consumers and professionals alike, Innovations focuses on cutting-edge advancements in everything from health and wellness to global business, renewable energy, and more.
For more information visit: wwwinnovationstv.com or call (866) 496-4065.
Media Contact:
Michele Nehls, Senior Producer / Innovations
(866) 496-4065 x 822 / michele(at)dmgproductions(dot)org