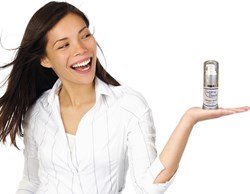 Matrixyl can double the production of collagen, and is a key ingredient in the Sublime Beauty® Collagen Serum.
St. Petersburg, FL (PRWEB) July 26, 2013
Collagen is at the heart of skin suppleness and smoothness. We lose collagen each year, and collagen lose is a strong contributing factor to wrinkles, fine lines, sagging and the look of thinning skin.
A key anti-aging tactic is to promote and encourage collagen production. This is done with various products, and one of the strongest producers following medical research comes from the peptide Matrixyl.
Matrixyl can double the production of collagen, as recently revealed by chemist Ian Hamley of Reading University. His research was published in Molecular Pharmaceutics and discussed that the peptide Matrixyl stimulates the collagen production and can double it.
"We chose our Collagen Serum specifically for our consumers because of the rejuventating performance of Matrixyl," said Kathy Heshelow, founder of Sublime Beauty®. "Our serum also contains beneficial aloe, ginseng and sodium hyaluronate, which helps hold in moisture. Our serum absorbs quickly and feels refreshing."
The Collagen Serum is currently on sale.