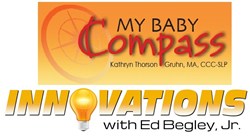 Matthews, NC (PRWEB) July 20, 2013
My Baby Compass, announced today that they will be featured in an upcoming episode of Innovations, slated to air later this year via the Discovery Channel.
This episode of Innovations will feature My Baby Compass, a parent tested, professionally recommended program that helps children think, speak, move, and thrive. Viewers will learn about My Baby Compass' three phase program; Birth to Two, Two to Four, and Four to Seven, which thoroughly covers identification of skills and activities in the areas of speech, hearing, physical development, cognition, social/emotional, and vision. Audiences will be amazed by the program's ability to guide children toward the right track of development.
"We are thrilled and honored that Innovations will feature My Baby Compass. We thrive to give parents and caregivers the best information in a convenient program that empowers parents to be able to know what the professionals know about child development," noted Kathy Gruhn, author and creator of My Baby Compass program series.
"This program is unlike anything I've ever seen before," said Michele Nehls, producer for the Innovations series. "We're so excited to share this with our viewers and hope it will bring peace of mind to parents dealing with development issues."
About My Baby Compass:
My Baby Compass –A series of books divided into three age groups – Birth to Two, Two to Four, and Four to Seven –allows you to unlock the mystery of your child's development. As your child's skills, behavior and physical development evolves, My Baby Compass' detailed checklists help you assess your child's progress through these important milestones. My Baby Compass also serves as a guide for communication between you and your child's health care provider, offering you the opportunity to obtain early intervention – a process of assessment and support that has been proven to increase your child's chances of success – in the case of a developmental delay, such as Autism or a speech and language delay. My Baby Compass is designed to complement your intuition, providing you with a wealth of practical information that will allow you to stimulate your child's growth and development in a tangible way.
About Kathy Gruhn:
Kathy Gruhn brings 35 years of child development experience to the creation of her My Baby Compass series. Holding both bachelors and masters degrees in speech and language pathology and a certification from the Amercian Speech and Hearing Association (ASHA), Kathy's educational background is extensive. Yet, her diverse clinical experience working with both children and adults in hospital, school and home health care settings is what truly impassioned her to develop the My Baby Compass program.
For more information, visit: http://www.mybabycompass.com.
About Innovations:
Innovations, hosted by award winning actor Ed Begley, Jr., is an information-based series geared toward educating the public on the latest breakthroughs in all areas of society. Featuring practical solutions and important issues facing consumers and professionals alike, Innovations focuses on cutting-edge advancements in everything from health and wellness to global business, renewable energy, and more.
For more information visit: http://www.innovationstelevision.com or call (866) 496-4065
Media Contact:
Michele Nehls, Senior Producer / Innovations
(866) 496-4065 x 822
Michele(at)dmgproductions(dot)org