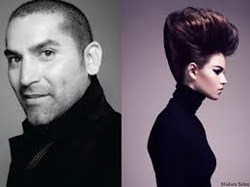 My vision for the shoot was 'It' girls come undone.
Las Vegas, NV (PRWEB) July 18, 2013
An emotional Allen Ruiz seemed elated after winning 2013 Hairstylist of The Year at the North American Hairstyling Awards (NAHA) Sunday night (July 14) at a Vegas gala ceremony at the Mandalay Bay Resort and Casino. Hosted by actor and celebrity journalist, Mario Lopez, more than 3,000 beauty professionals attended with tens of thousands more tuning in from around the world for the live broadcast on ModernSalon.com.
Considered the "Academy Awards" of Hair dressing, The North American Hairstyling Awards (NAHA) are awarded annually in 14 categories and salute technical excellence and artistic expression in hairdressing.
"Thank you. Thank you so much, I want to dedicate this to my family," the 42-year-old, three-time NAHA winner enthused after taking the stage. Ruiz previously won Hairstylist Of The Year in 2007 and Salon Team of The Year in 2011. In addition to being the first Latin-American stylist to take home top honors twice, Allen is also now one of just three stylists to have accomplished this feat.
Allen's award winning collection of beauty images paid homage to 50's/60's Americana. "My vision for the shoot was 'It' girls come undone," says Ruiz. "Women perfectly done-up that throughout the day, gradually unravel for a raw, sultry, dark, almost 'moody' look & feel."
Like many artists, Ruiz draws much of his inspiration from fashion and pop culture. "This shoot was a culmination of many different influences, the catalyst being the H&M commercial featuring singer/songwriter, Lana Del Ray singing Blue Velvet," states Ruiz. "Spring Fashion week was also an influencer, the Marc Jacobs show in particular, his models and styles came together for a really cool 'mod,' understated chic look."
Ruiz is thankful for the creative outlet and industry voice that competing in NAHA has provided him. "You have your bread and butter work in the salon, but NAHA gives you an outlet that really allows you to express yourself. Participating has definitely pushed and helped develop my skills and confidence as a hairdresser."
About Allen Ruiz
Globally recognized for his talent, vision and award-winning images, Allen Ruiz has been perfecting the art of hairdressing for the past two decades.
Allen's passion for fashion has taken him all over the world where he's had the opportunity to study under runway and editorial legends including Antoinette Beenders, Guido and Odile Gibert. A creative force behind many runway looks, Allen has engineered the hair for fashion houses including Cynthia Rowley, Stella McCartney, Marc Jacobs, Christian Siriano, Rodarte, and Charlotte Ronson.
Allen's editorial and campaign work have graced the pages of leading consumer and trade publications including Vanity Fair, W, Shape, Harper's Bazaar, and American Salon.
Working as a creative consultant for Aveda for the past 18 years, Allen currently serves as the company's Global Style Director for North America. In addition to creating imagery on fashion and education fronts, Allen has also lent his product development insights and expertise to brands including Aveda and Avon.
In 2007, Latina Magazine deemed Allen as one of the Top 10 Latino Hairdressers in America. A four-time Canadian Mirror Awards nominee for International Hairstylist of the Year, Allen took home the prestigious award in 2011. He has also been the recipient of five North America Hairstyling Awards (NAHA) nominations garnering Hairstylist of the Year honors in 2007 and Salon Team of the Year in 2011. Jackson Ruiz, Allen's award-winning salon located in Austin, Texas has been featured by Salon Today Magazine as one of the Top 200 Salons in the US.
Learn more about Ruiz and his salon by visiting http://www.JacksonRuiz.Com .