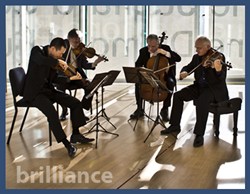 Founded way back in 1946, [the Quartet] lost nothing of its artistry, or of its unexcelled authority as an exponent of music both old and new. - Seattle Times, February 2013
Carmel, California (PRWEB) July 31, 2013
The Juilliard String Quartet concert on October 26th will offer up a few "firsts" for concert-goers to Chamber Music Monterey Bay's (CMMB) 47th season opener. The season marks the inaugural one for the Quartet's new violist Roger Tapping who replaces longtime violist Samuel Rhodes. Rhodes performed his farewell concert with the Quartet at July's Ravinia Festival in Illinois. Another "first" will be the West Coast premiere of Jesse Jones' commissioned work for the Juilliard: String Quartet No. 3, "Whereof man cannot speak…" Rounding out the program will be Haydn and Beethoven.
In a bit of creative programming, Rhodes will join Trio Cavatina in their inaugural appearance on CMMB's season on February 1, 2014. Rhodes' daughter, Harumi Rhodes, is the Trio's violinist. On the program will be a Beethoven piano trio, and piano quartets by Copland and Brahms.
Returning to the series by audience request are the Morgenstern Trio performing on November 15, 2013. The German trio won the 2009 Kalichstein-Laredo-Robinson Trio International Award and delighted audiences, performing with rousing passion and heartbreakingly beautiful musicality. In their return visit, the Trio will perform Ravel, Haydn, Boulanger, and Mendelssohn works.
The Catalyst Quartet takes the stage on March 14 with an eclectic program of new works by Quartet violinist Jessie Montgomery ("Strum"), plus works by Golijov, Barber, George Walker and Brahms. The members of the Quartet are alumni of the Detroit-based Sphinx Organization whose mission is to "transform lives through the power of diversity in the arts". The organization mentors talented young Black and Latino musicians to the highest levels of classical music performance.
The season closes in April with part 3 of CMMB's 'Arc of Life' commissioning project. The St. Lawrence String Quartet will perform the world premiere of George Tsontakis' contribution to the innovative 4-part project based on the video art installation 'Going Forth by Day' by California artist Bill Viola. The Quartet will be joined by soprano Jessica Rivera for the work which incorporates the poetry of Walt Whitman. Parts 1 and 2 of the 'Arc' project were composed by Joan Tower ('White Water' in 2010) and Kevin Puts ('Living Frescoes' in 2011) winner of the 2012 Pulitzer Prize for his opera 'Silent Night'. The closing program will include Haydn and Dvorak string quartets.
Pre-concert lectures accompany every concert presented by CMMB and are free to attend. These popular and enlightening lectures are given by San Francisco musicologist Kai Christiansen and allow concert attendees to deepen their experience with the works presented on stage.
As part of CMMB's education and outreach efforts, the first three rows in Sunset Cultural Center are reserved for students in grades 4-12 through our Kids Up Front & Free! program. Accompanying adults pay just $25, music educators attend for free.