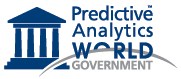 Washington, D.C. (PRWEB) July 18, 2013
Where do the Chairman of the House Committee on Oversight and Government Reform, the Inspector General of the USPS, IRS and Treasury officials, the Army, the Navy and the Chief Actuary of VA find common ground? At Predictive Analytics World for Government (PAW-GOV), September 18-19, 2013 in Washington, DC.
The agenda and speakers for this industry leading– and only – vendor-neutral analytics conference for government have been confirmed. Last year, 500+ attendees came together for this established networking event, a figure that looks to be increased in 2013.
Unlike general conferences, PAWGOV is specifically designed to help government leaders, analysts and program managers understand how they can apply predictive analytics more efficiently and effectively. On the agenda are hot button topics such as fraud detection using predictive analytics, extracting intelligence from big data, staff forecasting, text analytics and mining unstructured data, open data and data transparency legislation (DATA Act), DOD's "Data to Decisions" big data initiative, SEC's use of analytics to detect fraud and insider trading, building an analytics capability in the Federal government, how to overcome obstacles to analytics and how to get ROI from data analytics.
Leading the charge are PAWGOV's two keynote speakers:

Congressman Darrell Issa, Chairman of the House Committee on Oversight and Government Reform, with a topic soon to be announced.
David Williams, Inspector General of the U.S. Postal Service, who will discuss the ability to draw intelligence from big data and solutions driven by data analytics.
Joining Issa and Williams are analytics experts from business, non-profits and multiple branches of federal and state government. Speakers include:
David Aebischer, Branch Chief of the U.S. Army CECOM Training Support Division (TSD), Power, Analysis, Communications, and Training (PACT)
Lijia Guo, Chief Actuary of the U.S. Department of Veteran Affairs
Chris Sailer, Senior Manager of Risk Management & Analysis at The Bill and Melinda Gates Foundation
David Saltiel, Director of Analytics at the U.S. Treasury
Dean Silverman, Senior Advisor to the Commissioner and Director at the Office of Compliance Analytics, IRS
Steven Surell, Enterprise Information Management Lead, Commander for Naval Installations Command (CNIC), U.S. Navy
Dr. Harvey Westbrook, Assistant Director at the Office of Quantitative Research, Securities and Exchange Commission
PAWGOV 2013 is being held in the Atrium Ballroom of the Ronald Reagan Building on 1300 Pennsylvania Avenue NW, conveniently located near a number of city hotels and easily accessible by public transportation.
EARLY BIRD SPECIAL
Register before July 26, 2013 for Predictive Analytics World for Government in Washington, DC (September 18-19, 2013) and save up to $300 off the full price.
View the full agenda and see all the in-depth sessions available.
About Predictive Analytics World for Government
Predictive Analytics World for Government (PAWgov.com) is the leading vendor-neutral predictive analytics conference for government, designed to help agency managers understand how they can apply predictive analytics to more effectively and efficiently accomplish their mission.
About Rising Media
Rising Media is a global events producer excelling in Internet and technology-related conferences and exhibitions. Rising Media-produced events include Data Driven Business Week, eMetrics Summit, Context, Conversion Conference, DemandCon, Predictive Analytics World, Text Analytics World, Affiliate Management Days, Building Business Capability, Social Media Economy Days, Web Effectiveness Conference, Search Marketing Expo, SemTech and Social Gaming Summit in the US, Canada, UK, France, Germany, Sweden, Finland and Australia.
About Elder Research, Inc.
Elder Research Inc. (ERI) is the U.S.'s leading consulting company in data mining, predictive analytics, and text mining. Founded in 1995, ERI has helped government agencies and Fortune Global 500® companies solve real-world problems by amplifying the productivity of their analysts. Drawing from experience in multiple industries, ERI brings cutting-edge technology into front-line practice to achieve high return on investment. Headquartered in Charlottesville, Virginia, ERI also has offices in Washington, DC and New York, NY.
Program by: Elder Research and Produced by: Rising Media, Inc. and Prediction Impact.