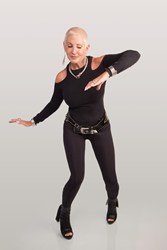 An emotional fitness odyssey, Nia is Just plain exhilarating. - The New York Times
Portland, Oregon (PRWEB) July 18, 2013
When Debbie Rosas first took off her shoes in 1981 to try martial arts, she discovered something profound that would change the way the world looked at cardiovascular workouts forever.
The sensation of having her shoes off while moving her body inspired Rosas to create what is now the mind, body, fitness movement.
By incorporating marital arts, healing arts, and dance into new workout routines she started a global revolution focusing on a barefoot dance-based regimen called the Nia Technique.
The Nia Technique is now internationally praised as one of the most advanced forms of fusion fitness, blending martial arts, dance and high-powered, synergistic workouts that remain unmatched by any other exercise technique. This year marks the Nia Technique's 30th Anniversary.
In celebration, the Nia Headquarters, located at 918 SW Yamhill in Portland, Oregon is offering a full day of free classes, a flash mob and a 'Roast and Toast' gala on July 27, 2013.
"When I first asked my aerobics students to take off their shoes I was nervous. Then at the end of class they were glowing. Since then our mantra is 'through movement we find health' and it works," says Rosas. "Regardless of ones age, size, or fitness level, Nia is the doorway into making movement a part of everyone's health and healing."
When asked what Rosas is most proud of she said, "I'm most proud that the work of Nia has been validated by the scientific community and medicine. Science has really given me the confidence and language to describe what I always knew, and to take Nia to populations who would otherwise not have the option to dance to music, such as Parkinson's patients, people in wheelchairs, and MS patients. Nia addresses the whole person, it heals and creates transformation."
Rosas looks back fondly on those first days of discovery and says she can't wait to have the opportunity to revisit such a profound change in fitness history by walking into the gala with her shoes on and taking them off as a symbol of Nia's success. "In 30 years we are now in 49 countries. I love helping people learn what it means to live in their bodies and choose pleasure, fitness and healing, over pain."
Her latest book, The Nia Technique highlights this profound language of movement.
About Nia technique:
The Nia Technique is a cardiovascular workout for the body, mind, spirit as well as the emotions. This year they are celebrating their 30th anniversary. The company has released dozens of CDs and DVDs that are used in Nia classes all over the world. The Nia Technique was founded in 1983 by Debbie Rosas and Carlos AyaRosas the San Francisco area.
The Nia workout incorporates martial arts, the healing arts, and dance arts into a synergy that provides an invigorating, yet safe and enjoyable, workout set to music. Nia is appropriate for all ages, sizes, and levels of ability. Nia classes are currently held in 49 countries around the world.
For additional information about Nia technique, please visit http://www.nianow.com.