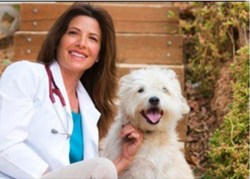 Boise, Idaho (PRWEB) July 18, 2013
Karen Bostick, creator and founder of PetsPage.com, today announced Dr. Tiffany Margolin, DVM, is one of PetsPage.com's newest veterinary medicine Pet Pros.
In addition to sharing valuable information to pet lovers on her Pet ProPage, "Dr. Tiffany" will also act as a PetsPage media spokesperson in the many areas of veterinary and holistic medicine treatments for pets as well as other pet health concerns. PetsPage.com is an e-social community for pets and pet lovers, with a primary mission to make pet owners aware of a higher level of veterinary care in the form of veterinary specialists that few pet owners know exist, and that can quite literally save pets' lives.
Dr. Tiffany is a graduate of the University of California, Davis School of Veterinary Medicine. She is a board certified veterinary practitioner (ABVP) in avian medicine and surgery. Dr. Tiffany's personal passion for incorporating eastern healing techniques in her pet advocacy/healing animal work lead her to seek additional training in holistic medicine. In 2004 she was certified in advanced NAET techniques, where she now integrates her clinical veterinary training with acupressure, a highly effective technique for pet allergy reduction.
Dr. Tiffany practices Integrative Veterinary Medicine which combines holistic techniques, such as acupuncture, herbal medicine and chiropractic with traditional veterinary medicine to assure the best overall outcome for a pet's health. She has contributed to numerous publications and conferences geared to helping veterinary professionals understand Integrative Veterinary Medicine.
"I look forward to connecting with PetsPage.com members and media around the world and sharing the wonderful healing treatments available to pets through a fully integrated approach of traditional veterinary practice and holistic techniques," said Dr. Tiffany.
Dr. Tiffany also hosts "All About Pets" – a radio talk show. She has written for "Bird Talk" and "Your Health Connection" magazines.
"I am thrilled Dr. Tiffany has agreed to join us at PetsPage.com in sharing her expertise and helping to communicate our PetsPage mission of creating awareness among pet lovers everywhere of the advanced treatment options that are now available to their pets. Dr. Tiffany's training in holistic pet health will be especially informative to our PetsPage members," said Karen Bostick, founder and CEO of PetsPage.com.
About PetsPage.com
PetsPage.com was created and founded by Karen Bostick with a mission to make pet owners aware of a higher level of veterinary care that can often save pets' lives when all else fails. This higher level of veterinary care comes in the form of veterinary specialists, which most pet owners don't know exist. These veterinary specialists can literally save a pet's life when a primary veterinarian is stumped or does not have the expertise or experience to treat a dangerous life threatening illness. As the daughter of a veterinarian, even Bostick did not know of veterinary specialists and the life-saving treatments for pets they can provide.
She quickly realized she was not alone in her lack of awareness about veterinary specialty medicine and decided she must do something to educate fellow pet owners. Her vision of connecting pet owners with veterinary specialists is now reality with PetsPage.com. "I have really had fun creating new ways to incorporate more social features to attract pet owners to this important information," said Bostick.