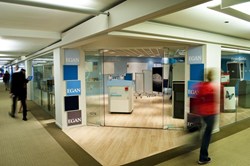 Egan has responded to the design community's use of Pinterest with a gallery of 500 product and in situ images.
Chicago, IL (PRWEB) July 19, 2013
Egan Visual announced the launch of a Pinterest site where designers will find large galleries of Egan Visual products, both in studio and in situ. The announcement came in Chicago at NeoCon, North America's largest design exposition and conference for commercial interiors, at the Merchandise Mart, in the Egan Visual showroom (Suite 1079).
"The market dictated this," noted Sean Brown, President. "We noticed a growing number of designers pinning images from egan.com, curating collections to enable design collaboration with industry peers and their clients. With our 45 years of service to the design community, and hundreds of thousands of installations, we knew this would be a great way to feed that need."
Pinterest is currently the 3rd largest social network in the world, and is "the fastest growing social network, ever" at a growth rate of 10-20% monthly, according to a leading digital media firm. It is a rich visual platform suited perfectly to the Egan Visual communications products.
"The entirety of the Egan line is available as standard, configured, Custom Response, or even bespoke. No literature can do it justice. This provides a way to share some of the product combinations that spark ideas in the designer's mind," added Brown.
The site, http://www.pinterest.com/eganvisual, is live now.
The design community and the dealer channel are invited to view not only the product galleries but also a very special 'board', the NeoCon 2013 board within the /eganvisual site, where all are invited to a sneak peek inside Suite 1079 and what it looked like during NeoCon.
Egan Visual designs and manufactures a full range of visual communication solutions for presentation and collaboration environments including professional grade markerboards, tackboards, mobiles, lecterns, centers, and glass markerboards. http://www.egan.com http://www.pinterest.com/eganvisual