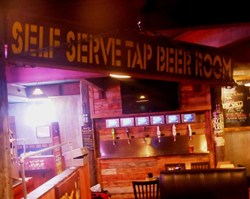 a solution where the customer get to try more beers in smaller sample sizes, the owner gets paid for beer going out with the added bonus of increasing sales
New York, NY (PRWEB) July 19, 2013
With an "approved" and "seconded" from Commissioner Jeanique Greene and Chairman Dennis Rosen, the beer wall concept has been formally accepted into the 'to-buy list' of NY Restaurant and Bar owners up and down the City and State.
A 'beer wall' from this company is a series of beer taps on a wall whereby the beer is pumped from the bar's cold storage area to that particular wall area. Each tap has an RFID reader beside it. When a guest opts to use the beer wall, their driver's license is swiped and their information is added to an RFID chipped wristband. They walk up to a tap, touch their wristband off the RFID reader by that tap and that opens the line and they can pour what they want, a full glass or a small sample. Either way whatever they pour is recorded to their 'account' and they pay for what they have used.
"We designed the system for a number of reasons" said Declan Duggan, the company's co-owner who spoke at the SLA hearing to a packed house in Harlem, "With the dramatic rise in craft beer demand in the past number of years customers are looking for more choice. They also want to try more beers in a single bar visit but not get caught with a 16oz glass of a beer they don't like. Equally we noticed bar staff were giving 'free tastes' to customers regularly that could be as much as three ounces of beer. Finally, my partner and I were tired of going to bars on busy nights and waiting for service. With beer costs rising it was easy to see that there needed to be a solution where the customer got to try more beers in smaller sample sizes, the owner needed to get paid for beer going out and, with the added bonus of increasing sales, with less wait times it all made sense"
The Liquor Authority listened to the fact that customers only have access to 32 ounces of beer at a time. Once a customer hits that limit they have no more access to beer unless a staff member re-ups their wristband for another 'round' of the same amount. It was this built-in responsibility in the system that made their decision quite easy. "They seem very pro-business and fair minded" Duggan remarked of the SLA board members. "They see that this will help retail owners manage their businesses more efficiently and give customers the ability to control their own drink size and flavor. We had quite a bit of potential business in NY that can now be realized as a result of this decision. It's a win-win and we are excited to be doing business with our most popular unit in New York now"
With football season fast approaching we are pretty sure that New York owners will be checking out the company's mobile offerings as well. That way their clientele can pour their own beer from a wall or table whether they are Jets, Giants or Bills fans.
http://www.pourmybeer.com is an Innovative Tap Solutions Company. The company was formed in MD in 2008 and made the first commercial mobile self-serve beer tables in the US. It also sells and distributes fixed beer walls, mobile beer walls, fixed draft tables and mobile draft self-serve tables. All mobile equipment is made in the USA. Contact sales (at) pourmybeer (dot) com or call 215-219-9203/443-691-2337