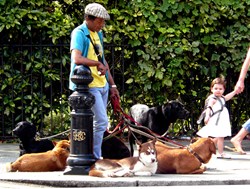 "The common makeup of my best dog walkers and sitters is they are detail-oriented, reliable, and good with both pets and people."
Jennifer Haralson, A Pause for Paws (Lincoln, NE)
Dallas, TX (PRWEB) July 18, 2013
New York City is often credited as the birthplace of professional dog walking services. Jim Buck, who died this month at the age of 81, became the first professional dog walker in New York City in the 1960s. A native of the Upper East Side himself, Jim's company, "Jim Buck's School for Dogs" was started when a number of very prominent New Yorkers he knew asked for his help walking their dogs. Mr. Buck eventually employed over 20 people in his efforts to walk the wide range of dogs owned by some of the most influential New Yorkers in the city.
It's been fifty years since Jim Buck originally started his dog walking company, and the market for dog walking services has changed quite a bit in that time. While most people associate iconic photos of one dog walker handling up to a dozen dogs at a time as they walk down the street as "a day in the life of a dog walker", in today's reality that rarely happens.
Most dog walkers today will only walk one-to-three dogs maximum at a time, and all of those dogs live in the same household. This is primarily for the dog and sitter's safety, in addition to the fact that to walk many more dogs than that at a time, the walker must have significant dog handling experience.
The type of people that become dog walkers has evolved as well. While there are few official statistics on dog walker demographics, it is generally known within the industry that the bulk of dog walkers and pet sitters are female.
Joette White, President of Park Cities Pet Sitter, Inc., in Dallas, TX said that when people ask her about the types of people that work for her as dog walkers and pet sitters, they are often surprised at her response. "Many people assume that most of my walkers and sitters are quite young, particularly because of the amount of walking that can be involved on a daily basis. But in my business, most of my employees are 40 years of age and up. Many of them are on their second or third careers, and have realized they did not like having a more traditional job that required them to sit behind a desk every day. They also wanted a little bit more schedule flexibility, and liked the autonomy of working out in the field every day."
Jennifer Haralson from A Pause for Paws, Inc. in Lincoln, NE agrees with Joette's assessment. "The true variety of people that work for me is interesting. There is really no profile of a 'typical' pet sitter. The common makeup of my best dog walkers and sitters is they are detail-oriented, reliable, and good with both pets and people. I have quite a range of ages within my dog walker ranks as well."
Shannon Centola, Owner/Founder of Buckhead Pet Pals, and President of Power Pet Sitter, in Atlanta, GA had this to say about her company's dog walkers and sitters, "I have hired a lot of part-time walkers and sitters to cover some of the busier times of day for my business. Middle of the day dog walkers are always in demand, so I have several mothers with kids that are school-age that love that they can see their kids off to school, and pick them up at the end of the school day, but also make some money in the middle of the day. If someone loves animals, is responsible, and consistently has a part of their day free to work, then I encourage them to try dog walking and pet sitting!"
Professional dog walking has clearly evolved into a thriving industry since the 1960s when Jim Buck first entered into it. There are hundreds of dog walking and pet sitting companies now in New York, and in most every other city of any reasonable size. And like many businesses, there are all types of people that can now call it their "profession of choice."
Park Cities Pet Sitter, Inc. has served the Dallas area 7 days a week, 365 days a year since 1992. Pet sitting, daily dog walks, pet taxis, overnight sitting, pet supply shopping, litter box cleaning and dog training are all part of the services PCPSI offers. Park Cities Pet Sitter is bonded and insured, and all sitters are employees--not independent contractors. A manager is on-call 24 hours a day to handle any emergencies. Additional information about Park Cities Pet Sitter can be found on their website at http://www.pcpsi.com.