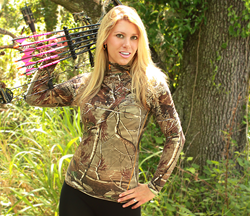 SAMY provides an easy and cost-effective way for my [Larysa Unleashed] brand to leverage this growing mobile channel and a way to continuously stay connected with fans
Sarasota, FL (PRWEB) July 18, 2013
MobileBits, (OTCQB: MBIT), provider of the SAMY℠ mobile marketing and engagement network, and popular reality TV personality Larysa Switlyk of Animal Planet's Top Hooker, today announced that Switlyk and MobileBits have teamed up to promote SAMY through multiple 30-second TV commercial spots to be aired during her new outdoor adventure TV series, Larysa Unleashed.
Larysa Unleashed is scheduled to air on NBC Sports network beginning July 24 at 3:30 pm EST through October 27. Over the course of the 14 weeks, 'Larysa Unleashed' adventures include bow-hunting and fishing in national and international locales including Wisconsin, Texas, New Mexico, Barcelona, Argentina, Costa Rica and Florida's Boca Grande Pass.
"We are extremely excited to work with Larysa; her outdoor personality will certainly bring a playful competition and fuel for content; pitting the squirrel against the fearless hunter," said Walter Kostiuk, President& CEO of MobileBits.
Switlyk brings a fresh, youthful female perspective to the international fishing and hunting industry, currently on Animal Planet's 'Top Hooker' fishing show as the Bowfishing Babe. She was recently featured on ABC News, Good Morning America and the Fox Network morning news show, Fox and Friends.
Furthermore, Switlyk has selected SAMY as her exclusive mobile marketing strategy to promote the Larysa Unleashed show series, which includes 'Larysa Unleashed' Hunting Show and 'Larysa Unleashed Gone Fishin'' Fishing Show, on smartphones to stay connected with her fans and to reach new fans through a Larysa Unleashed branded SAMY storefront.
"Smartphones are now the primary way consumers communicate and stay connected with each other around the world. SAMY provides an easy and cost-effective way for my brand to leverage this growing mobile channel and a way to continuously stay connected with fans," says Switlyk. "I can easily send direct messages, publish merchandise offers and link all my existing social media sites including Facebook, Twitter and YouTube through one mobile application."
SAMY is the award-winning, patent-pending direct mobile marketing and engagement network that enables brands to extend their presence to popular smartphones and engage with consumers via customizable, branded mobile storefronts.
For more information about what SAMY can do for your business and to create a branded storefront, visit http://www.samy.com.
For more information about Larysa Unleashed LLC., visit http://www.larysaunleashed.com.
About MobileBits Corporation
MobileBits, provider of SAMY, the fast growing 'Mobile Mall' that provides any merchant, retailer or brand with an out-of-the box, ready to deploy, mobile commerce platform to connect with consumers in their local area and help increase sales in the physical store. The solution provides business a complete set of tools to connect with, create and manage mobile campaigns, deals, offers, commerce, loyalty and rewards to a subscribed mobile consumer. For more information, visit http://www.mobilebits.com or http://www.samy.com.
Forward-Looking Safe Harbor Statement
This press release contains forward-looking statements that are made pursuant to the safe harbor provisions of the Private Securities Litigation Reform Act of 1995. By their nature, forward-looking statements and forecasts involve risks and uncertainties because they relate to events and depend on circumstances that will occur in the near future. There are a number of factors that could cause actual results and developments to differ materially from forecasted results. These risks and uncertainties include our ability to: attract end users; attract advertisers; our ability to successfully implement our current long-term growth strategy; as well as product demand, market competition, fluctuations in advertising payouts, delays in website & application development, technical issues beyond our control, reliance on the various platforms that we build applications on, and risks inherent in our operations. For a discussion of these risks and uncertainties, please see our filings with the Securities and Exchange Commission. Our public filings with the SEC are available from commercial document retrieval services and at the website maintained by the SEC at http://www.sec.gov.