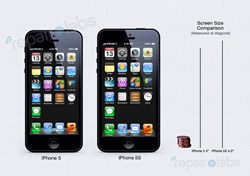 It's exciting to see that Apple may be taking notice of the competition, and gearing up their latest iPhone to actually be able to compete in the screen size-driven market
Wichita, KS (PRWEB) July 18, 2013
RepairLabs, an express-ship device repair center has been hard at work since the rumor dropped that the new iPhone had been delayed due to Apple wanting to make the screen larger, increasing the size from the current iPhone 5 4" screen to 4.3" on the new iPhone 5S.
There are also rumors floating around that this new screen will be manufactured by Samsung, which would be the first time these giants have worked together in the last couple of years for the iPhone. Initially the rumors were mostly coming from unrecognized sources, but once Bloomberg, a leader in many major news fields, picked up the news yesterday afternoon July, 17, we knew that we had to look into it.
"It's exciting to see that Apple may be taking notice of the competition, and gearing up their latest iPhone to actually be able to compete in the screen size-driven market. Now all we can hope for is that the resolution increases with the screen size!" Was Curtis Taylor, local Repair Genius for RepairLabs had to say about the rumors.
With the delay reportedly pushing Apple's launch of the iPhone 5S as far back as the Holiday Season, it will be interesting to see if the rumors are all just smoke and mirrors, and that the parts that have been leaking on to the Internet, are indeed what's being used in the iDevice.
RepairLabs worked up an image showcasing the rumored 4.3" display on the iPhone 5S against the iPhone 5's 4" display. We believe that the screen will help make the latest iDevice iteration less oblong shaped, and take a more proportionate shape, much like the competition.
Taylor Huddleston, the lead Repair Technician for RepairLabs had this to say, "I think it's a waste of time. The addition of .3" will not make that much of a difference. Apple would be better off both sticking with the 4" for this model and going with something much larger for the iPhone 6."
About RepairLabs.com: RepairLabs was founded in 2008 to provide consumers with an excellent and affordable repair shop for Apple devices, and has continually expanded until now, where they cover almost all major mobile electronic devices. Nationally recognized as a leading source in repair knowledge, the RepairLabs blog has consistently delivered cutting-edge analysis and reports and has been sited on countless authority news hubs, such as; TechMeme.com, Forbes.com, and theVerge.com. Learn more at http://www.repairlabs.com/blog/what-the-iphone-5s-would-look-like-with-a-4-3-screen/ or call 1-888-755-1115.
DJ Dixon
316-869-2865
RepairLabs.com