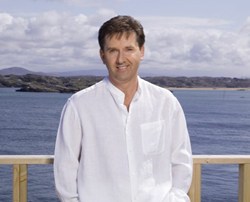 Daniel O'Donnell was fantastic!!! I love watching him sing and dance. It was the best evening I have had in a long time. I love everything about him. I feel very honored to meet him afterwards, he is truly an amazing person.
Branson, Missouri (PRWEB) July 18, 2013
Branson Ticket & Travel - The Andy Williams Moon River Theatre announced today that International Entertainer and Branson Superstar, Daniel O'Donnell will be moving his show to the Moon River Theatre for the 2013 Christmas Season.
For more information: 1-800-432-4202
Daniel O'Donnell has been a staple of the huge Branson Christmas Entertainment season and moving to the Moon River Theatre will add to the highly successful Andy Williams Christmas Show, which continues after the passing of Andy Williams this Fall.
"We're excited to have Daniel O'Donnell coming to Moon River Theatre next Christmas season. It will be a tremendous addition to our 2013 Christmas line-up which also includes the Andy Williams Christmas Show. The Moon River Theatre will continue to be a legacy for our founder, Andy Williams and be the home of great singers and entertainers, of which Daniel O'Donnell is one of the best!" said Lynn Meredith, General Manager.
To purchase tickets online Click Here
An extremely successful Irish singer and television artist who rose to public attention in 1983, after saving enough money to make his own record and selling them on his own. Later that year, he formed his first group and the rest is history! Daniel has since become a household name in Ireland and the UK, plus experienced considerable success in the US and Australia.
Known for his close relationship with his fan base, and his charismatic and engaging stage presence, O'Donnell's music has been described as a mix of country and Irish folk, and he has sold over ten million records to date.
By the mid-1990s, O'Donnell had become a household name across Ireland and Great Britain. He appeared on popular television shows in both countries, and won various awards. Among the accolades, O'Donnell was named Donegal Person of the Year in 1989, which he still rates as the best award. He was given the Irish Entertainer of the Year award in 1989, 1992 and 1996. O'Donnell's first chart hit single in the UK was in 1992 with "I Just Want to Dance With You" (later covered by George Strait).
Daniel has had twenty UK Top 40 albums as well as fifteen Top 40 singles and has sold 10 million records to date. O'Donnell garnered considerable success in North America, when he starred in seven concert specials on public television stations in the US. He has charted 18 albums in the Top 20 of Billboard's World Music Album Chart and also has had several entries in the Independent Albums Chart too. In 2011, O'Donnell became the first artist to have an album in the UK charts for 25 consecutive weeks.
Daniel O'Donnell has also become one of the most successful entertainers in Branson since first appearing a few years ago, nearly selling out every appearance. He usually teams up with Mary Duff, Irelands' top female vocalist, and Branson gets a blend of traditional Irish ballads, country favorites, and traditional gospel with an Irish twist! Daniels O'Donnell's festive International show will now be performed at the Andy Williams Moon River Theatre in Branson, Missouri beginning November 1, 2013.
To request a free vacation planner and showguide Click Here.