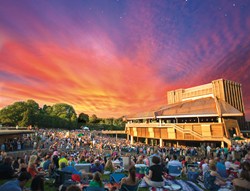 Vienna, Virginia (PRWEB) July 18, 2013
OneRepublic
Mayer Hawthorne
Monday, August 5, 2013 at 7 pm
$30-$45
OneRepublic brings unforgettable pop hooks, funky soulful interludes, and piano-driven rock to their Filene Center debut. They first gained popularity with their 2006 single "Apologize," which at one point was the most popular digital download in United States history; the band received a Grammy nomination for the song. Their second album, Waking Up (2009), peaked at No. 21 on the Billboard 200 with a series of multiplatinum hits in "All the Right Moves," "Secrets," and "Good Life." In March the quintet released their third album, Native, which features standout singles like "Feel Again" and "Counting Stars," and has hit No. 4 on the Billboard 200.
Video: OneRepublic's "Feel Again: Save the Children Special Edition"
Performances by Los Angeles-based Mayer Hawthorne interplay retro soul and cutting-edge technology, a nod to his admiration for Detroit's Motown legacy and his experience as a hip-hop DJ. Highlighted by the singer's signature falsetto, How Do You Do (2011) reached No. 8 on Billboard's R&B Albums chart with hit songs like "Just Ain't Gonna Work Out" and "The Walk." In July he released, Where Does This Door Go, which broadens his sound again, drawing from influences such as Steely Dan to Iron Maiden for an eclectic album he says "is truly me."
Video: Mayer Hawthorne – "No Strings"
Under the Sun
featuring Smash Mouth
Sugar Ray
Gin Blossoms
Vertical Horizon
Fastball
Tuesday, August 6, 2013 at 7 pm
$28-$42
Originally considered ska rock mavericks, Smash Mouth will debut at the Filene Center with a signature mix of bright pop/rock anthems and incredibly lively performances. Originating from San Jose, California, the band released their debut album in 1997, which immediately put them on the map with hits like "Walkin' on the Sun" and a cover of "Why Can't We Be Friends?" Their next project, Astro Lounge (1999), hit No. 6 in the Billboard 200 and produced the monster hit "All Star." This, and the band's cover of "I'm a Believer" for the Shrek (2001) soundtrack, cemented their reign atop the summer band landscape. Five studio albums later, their hits have continued to smash records, including 2012's Magic, an "effortlessly effervescent" party collection.
Video: Smash Mouth – "All Star" (Live at the Hard Rock Cafe)
Orange County-based Sugar Ray comes to the Filene Center under the helm of charismatic lead singer Mark McGrath. After starting out as an alternative heavy metal band named Shrinky Dinx, the group renamed themselves Sugar Ray and recorded their debut album, Lemonade and Brownies, in 1995. The group's popularity skyrocketed when they changed direction and captured the essence of summer rock in the lighter pop-rock single "Fly" (Floored, 1997). Their follow-up album went triple-platinum and included the chart-topping hits "Someday" and "Every Morning." After a five-year hiatus, the group returned with Music for Cougars (2009), an album highlighted by the buoyant single "Boardwalk."
Video: Sugar Ray – "Someday"
The Gin Blossoms are ready to showcase the skillful combination of pop and late '80s punk influences that helped make them an alternative-rock favorite in the early 1990s. The group's 1992 singles "Hey Jealousy" and "Found Out About You" cast them into the mainstream rock spotlight. In 1995 their song "Til I Hear It From You" was featured in the movie Empire Records and received heavy radio play. The group broke up in 1997 but reunited four years later for a New Year's Eve concert. Since then they have performed a series of tours and released two more original albums, with a third set to come out this year.
Video: Gin Blossoms – "Hey Jealousy"
Local favorites Vertical Horizon bring their anthemic sounds to the Filene Center. After securing a gig touring with Dave Matthews Band, Vertical Horizon signed to RCA and released their first studio album in 1999. Everything You Want became a hugely successful hit, achieving double-platinum status on the strength of the titular track, which achieved No. 1 on the Billboard Hot 100, as well as other hard-hitting singles like "You're a God" and "Best I Ever Had (Grey Sky Morning)." They have released two more albums since, including Burning the Days (2009), an album with "immaculate production" and "warm, pleasant vibes" (AllMusic.com).
Video: Vertical Horizon – "Everything You Want" (Live)
Austin-based band Fastball is set to make its Filene Center debut this summer. The three-man group of Beatles-inspired, alternative-infused pop/rock has been playing together since their debut album, Make Your Mama Proud (1996). Its release garnered moderate success, but All the Pain Money Can Buy (1998) brought these Texans straight into the limelight. The album included extremely successful songs "Out of My Head" and "The Way"—which peaked at No. 1 on the Billboard Modern Rock Tracks—reached platinum status, and was nominated for two Grammys. Fastball has since released three more albums, including the stripped-down album Little White Lies (2009).
Video: Fastball – "The Way"
Ballroom with a Twist
Starring
Dancing with the Stars Pros
Derek Hough, Peta Murgatroyd,
Anna Trebunskaya & Tristan MacManus
Plus So You Think You Can Dance Finalists:
Jonathan Platero, Randi Lynn Strong, Jaymz Tuaileva & Legacy
plus American Idol Finalists:
Melinda Doolittle, Von Smith & Gina Glocksen
Wednesday, August 7, 2013 at 8 pm
$25-$48
Bringing together stars from three very popular and successful shows, Ballroom with a Twist features incredible choreography, vibrant costumes, and a cavalcade of dances and songs that will make everyone want to move. Choreographed by Emmy-nominated Louis van Amstel—a four-time Dancing with the Stars pro—this show features DwtS pros Derek Hough, Peta Murgatroyd, Anna Trebunskaya, and Tristan MacManus, who have won the show's coveted mirror ball trophy a combined five times. They are joined by finalists from So You Think You Can Dance Jonathan Platero, Randi Lynn Strong, Jaymz Tuaileva, and Legacy, all of whom are ready to showcase their years of experience in everything from salsa and ballroom to B-boying and contemporary dance. Finally, American Idol finalists Melinda Doolittle, Von Smith, and Gina Glocksen are set to belt out hits from their time on one of America's favorite television shows.
Video: Ballroom with a Twist - Dance Extravaganza
An Evening with Gipsy Kings
Thursday, August 8, 2013 at 8 pm
$30-$42
With their playful mixture of flamenco and rumba styles, Gipsy Kings will have the Filene Center rocking with their unique style of music. Though their first two albums were heavily influenced by their traditions, mainstream success followed when they began combining their established sound with contemporary rock. The result was their self-titled 1988 album, which featured wildly popular hits like "Bamboleo" and "Djobi Djoba." Since then, the band has released multiple top-selling albums, including Pasajero (2007). In 2008 they wrote the music for Zorro, a musical that debuted on the West End that same year. They've also performed covers of hit songs for movies like The Big Lebowski ("Hotel California") and Toy Story 3 ("You've Got a Friend in Me").
Video: Gipsy Kings – "You've Got a Friend in Me"
Don McLean
Judy Collins
Friday, August 9, 2013 at 8 pm
$22-$42
Don McLean, singer/songwriter of the monumentally famous hit "American Pie," is ready to sing hit after hit from his influential 40-plus-year career. His sophomore album, American Pie (1971), was his first major success. It included "Vincent," a single that peaked at No. 12 in the Billboard Hot 100, and the folk classic "American Pie," which was ranked No. 5 in the "Songs of the Century" list by the Recording Industry Association of America and the National Endowment for the Arts in 2001. In 2004 McLean was inducted into the Songwriters Hall of Fame. His most recent release, Addicted to Black (2009), features "several well-wrought reflections on life, love, and aging" (The Independent).
Video: Don McLean – "Vincent (Starry, Starry Night)"
Once categorized as a folk singer, great American songstress Judy Collins has been performing her musical palette of everything from folk to show tunes for more than 50 years. Although she has no singular signature song, Collins is closely identified with her a cappella rendition of the 18th-century hymn "Amazing Grace." Many other well-known songs are also part of Collins's collection, such as "Both Sides Now," "Send in the Clowns," and "Someday Soon." Her latest studio release, Bohemian (2011), has been lauded as another classic Collins composition.
Video: Judy Collins – "Send in the Clowns" (Live)
Mary Chapin Carpenter
Shawn Colvin
Special Guest: BeauSoleil avec Michael Doucet
Saturday, August 10, 2013 at 8 pm
$25-$42
Local icon Mary Chapin Carpenter is ready to rock the Filene Center. Her first few albums were mostly folk-based, but her 1992 breakout release, Come On Come On, mixed her traditional sound with country-rock. The album sold more than two million copies off the success of hit singles "I Feel Lucky," "Passionate Kisses," and her first No. 1 song "He Thinks He'll Keep Her." By the early 2000s her songwriting began to reflect a more serious and mature side of life. Her most recent release, Ashes and Roses (2012), is a fully introspective look into faith and recovery that was influenced by personal health and relationship hardships of recent years. The five-time Grammy Award-winner was inducted into the Nashville Songwriters Hall of Fame in 2012.
Video: Mary Chapin Carpenter – "Why Walk When You Can Fly"
Shawn Colvin showcases a voice that "has never sounded more graceful and full" (Glide Magazine). In 1989 she released her debut album, Steady On, which won a Grammy for Best Contemporary Folk Recording. She won two more Grammy Awards for her extremely popular single "Sunny Came Home," which was featured on A Few Small Repairs (1996). Last year Colvin released her memoir, Diamonds in the Rough, which gives insight into her songwriting through personal heartaches and triumphs. The book coincided with the release of her evocative and personal album, All Fall Down, which Colvin describes as a record that "portrays a sense of loss and redemption…and resolution."
Video: Shawn Colvin – "All Fall Down"
BeauSoleil avec Michael Doucet bring their zydeco, New Orleans jazz, and Caribbean calypso-influenced Cajun sound to the Filene Center. Since 1975, the band has released 29 albums, including Alligator Purse (2009), a 2010 Grammy nominee for Best Zydeco or Cajun Music Album and, most recently, 2013's From Bamako to Carencro. Frequently appearing on A Prairie Home Companion, Garrison Keillor named BeauSoleil avec Michael Doucet "the best Cajun band in the world."
Video: BeauSoleil avec Michael Doucet
Frampton's Guitar Circus
Featuring Peter Frampton
B.B. King
Sunday, August 11, 2013 at 7:30 pm
$30-$45
One of the most celebrated guitarists in rock history, Peter Frampton comes to the Filene Center for a night of legendary hits. His breakthrough album, Frampton Comes Alive! (1976), captured his memorable guitar solos and refrains and became one of the top-selling live records of all time with the hit singles, "Show Me the Way," "Baby, I Love Your Way," and "Do You Feel Like We Do." His follow-up I'm in You came the following year; the titular track proved to be another successful single, peaking at No. 2 on the Billboard Hot 100. His current tour, Peter Frampton's Guitar Circus, brings together icons such as B.B. King, Robert Cray, and David Hidalgo of Los Lobos to rock out on stages across the country. Every concert is recorded live and is digitally released 72 hours after the performance.
Video: Peter Frampton – "Show Me the Way" (Live)
B.B. King has ruled the blues charts for nearly 60 years, and he is set to take over the Filene Center stage with "Lucille"—his trademark semi-hollow-body Gibson guitar—and his dazzling guitar skills. His songs "You Upset Me Baby," "You Know I Love You," and "Please Love Me" all topped the blues charts in the 1950s, and he won his first Grammy for his soulful rendition of "The Thrill is Gone" in 1970. He was inducted in the Rock and Roll Hall of Fame in 1987, received a Presidential Medal of Freedom in 2006, and was named the sixth greatest guitarist ever by Rolling Stone in 2011.
Video:B.B. King – "One Kind Favor"
Tickets can be purchased by calling 1.877.WOLFTRAP or online at http://www.wolftrap.org. For more information, call Wolf Trap at 703.255.1868.
High-resolution images of the artists listed are available on Wolf Trap's website: http://www.wolftrap.org/Media_and_Newsroom/Photos_for_Publication.aspx.
Wolf Trap is Metro accessible!
Our environmentally friendly Wolf Trap Express Bus travels from the West Falls Church Metro stop every 20 minutes starting two hours prior to show time. For details, please visit http://www.wolftrap.org/Plan_Your_Visit/Access_by_Metro.aspx.
###