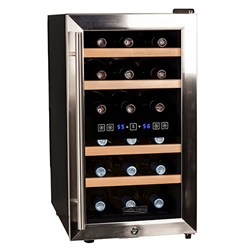 Austin, TX (PRWEB) July 23, 2013
For most people, summertime is all about barbeques, grilling, cold beers, and lemonade but it is actually the perfect time to try new wines as well. Many white wine varietals, such as Pinot Grigio and Sauvignon Blanc, are best served chilled and their refreshing acidity makes them perfect pairings for a hot summer day. This makes summer the perfect time to celebrate wine. WineCoolerDirect.com wants to join in the celebration and help you keep your wines chilled by giving away a free wine refrigerator.
Kari Hall, Director of Business Development, stated "Enjoying wine in the summer boils down to two things – wine selection and wine temperature. This giveaway was designed to take care of the hard part. Once you have an effective way to control the temperature, humidity, and other variables that affect the flavor of wine, the rest is easy."
She went on to say, "Wine has an intimidating aura around it for a lot of people which makes them hesitant to 'get into' wine, but you don't have to buy a $100 bottle to drink 'good wine.' The key is simply choosing something you like and serving it at the correct temperature. Summer is the perfect time to try out new white wines because their ideal serving temperature is between 45 and 50°F and many of them have pleasantly refreshing characteristics."
A wine refrigerator is an item even the most casual wine drinker can take advantage of. It provides maximum control over the storage environment to ensure the wine tastes exactly as the winemaker intended. Not only does it protect and chill the wine but it makes storage and organization a snap.
The WineCoolerDirect.com website is part of the Living Direct network. Living Direct has been in business since 1999. It was named a Top 500 Retailer for multiple years in Internet Retailer Magazine. Living Direct was also named as one of the Hot 500 Fastest Growing Businesses by Entrepreneur Magazine. They were also recently awarded an Excellent Rating by STELLA Service for their elite online customer service.
Go to the WineCoolerDirect.com website for more information about the free Wine Refrigerator giveaway. Certain restrictions may apply.