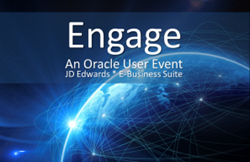 Users derive the most satisfaction from their applications when they are well trained and actively engaged with their peers.
Chicago, IL (PRWEB) July 22, 2013
Trained users are 5 times more productive, according to Gartner. This statistic rings true for users of all business applications. Terillium, an Oracle platinum partner specialized in JD Edwards (JDE), and E-Business Suite (EBS) software is announcing a free event called Engage in Chicago, IL on August 22, 2013. Engage will provide networking with peers and dozens of training sessions led by industry experts at Oracle, Terillium and their partners.
"Oracle users have asked for a place to see the latest trends in technology, meet local professionals, and learn how other companies are solving business issues," said Steve May, Vice President at Terillium. "Surveys find that users derive the most satisfaction from their applications when they are well trained and actively engaged with their peers. This year's conference has more education sessions and networking opportunities than ever before, efficiently packed into one day."
Engage is applicable for executives, end-users and all those who support end-users. Whether they have already upgraded, are planning for an upgrade, or are currently upgrading, Engage will provide attendees with the education and business relationships required for working smarter and staying connected. Registration information can be found at: http://www.terillium.com/engage/Registration.aspx.
The customer keynote at Engage features a Chicago-based Oracle customer who enabled business growth by implementing cloud computing, an e-commerce site integrated with Enterprise Resource Planning (ERP) and business intelligence (BI).
During the day, educational breakout sessions will provide training from industry experts in hot topic areas including Software as a Service (SaaS), mobility, and business intelligence (BI). Additional sessions will focus on Fusion applications, best practices during upgrades, and project portfolio management. A complete list of sessions at Engage is available online at: http://www.terillium.com/engage/Sessions.aspx.
The event will conclude with an open happy hour, allowing attendees the opportunity to expand their professional networks with local peers, executives and industry experts.
Engage is sponsored by Terillium as well as select companies such as CDI, DSI, Essentio, ERPSuites, Docusphere, GoEngineer, SPS Commerce, InsightSoftware, and Oracle. These sponsorships allow the Engage conference to be conducted at no cost to attendees. For more information, visit http://www.terillium.com/engage.
About Terillium
As an Oracle Platinum reseller, there are no boundaries to the solutions Terillium can bring to meet your most challenging business requirements. Terillium possesses notable experience – specializing in implementing and reselling Oracle business applications for more than 17 years – in providing award winning implementation services including project management, application consulting, systems integration, application development, and database/infrastructure support.
The Terillium consulting team is unsurpassed in product knowledge, industry best practices, and experience. Terillium eliminates doubt by delivering high quality, high value Oracle software resale and implementation services.
For more information call (513) 621-9500 or visit http://www.terillium.com